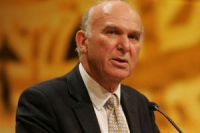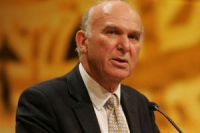 British Business Secretary Vince Cable has slammed the Conservatives' planned cuts on working poor, saying the punitive measures go "far beyond" what is needed to reduce the country's deficit.
Cable made the remarks in an interview with the British newspaper The Observer.
The UK cabinet minister said Chancellor of Exchequer George Osborne's proposal to freeze in-work benefits, if the Tories win next year's general elections, would be completely unacceptable to his party, the Liberal Democrats, in any future coalition.
Cable said "What he is suggesting goes far beyond what you need in order to achieve financial discipline."
The minister also rejected Osborne's claim that the proposed benefits freeze would save the government some 3 billion pounds and that even though Prime Minister David Cameron's government has already applied 100 billion pounds in cuts, another 25 billion pounds is required to eliminate the deficit.
In addition, Cable said if David Cameron's Conservatives win next May's election and govern alone, Britain's working poor would be "hit time and time again as George Osborne takes his axe to the welfare budget with no regard for the impact on people's lives."