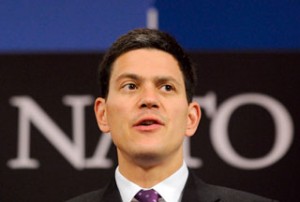 The United Kingdom has ordered the expulsion of a senior Israeli diplomat over the use of fake British passports in the terrorist murder of a Hamas commander in Dubai.
"I have asked that a member of the embassy of Israel be withdrawn from the UK as a result of this affair, and this is taking place," Foreign Secretary David Miliband said Tuesday.
The expelled Israeli 'diplomat' is widely reported to be a Mossad operative in the regime's embassy in London.
Miliband said the Tel Aviv regime is to blame for misuse of British passports in the terror operation.
Miliband told the parliament there were compelling reasons to believe Israel was responsible for the misuse of British passports in the assassination of Mahmud al-Mabhuh, who was drugged and suffocated in his hotel room in a terrorist operation in Dubai on January 19.
Tel Aviv's spy agency Mossad is widely reported to have masterminded the terror scheme. Israeli officials have not denied involvement in the terrorist operation. Moreover, Israeli media have been boasting Mossad's expert operational planning in the terror of al-Mabhuh and other prior operations.
The operation carried out by a terror squad comprised of twelve British, six Irish, four French, three Australian and a German passport holder that are believed to have been Mossad agents, according to Dubai police.
Israeli and European media have reported that Israeli Prime Minister Benjamin Netanyahu had authorized the terror operation against the Hamas commander in a meeting with Mossad's chief Mier Dagan in early January in Tel Aviv.