Europe
UK firefighters to begin 4th strike over pensions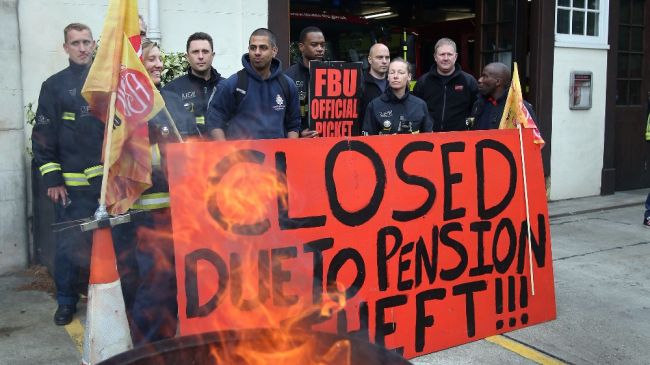 Firefighters in England and Wales are set to begin a fourth strike in four days as part of an ongoing dispute with the UK government over pensions.
Members of the Fire Brigades Union (FBU) are to start a five-hour strike from 10:00 local time (09:00 GMT) in protest against the government's plans to raise pension contribution and the retirement age from 55 to 60.
In addition, in Scotland, the union has imposed a ban on voluntary overtime as part of the firefighters' industrial action, which will last until May 9.
The FBU, which represents over 85 percent of the UK's firefighters, is also against the right for employers to sack firefighters because their fitness declines as they get older under the new retirement age rule.
"It is a physically demanding job and requires high levels of fitness and strength with heavy equipment, so increasing the retirement age means firefighters could be sacked or lose 47 per cent of their pension if they are not capable of meeting those demands," said Mike Godden a representative for the FBU.
The union's general secretary, Matt Wrack, said it was time for the UK government's "games to stop and common sense to prevail."
"Just like the current bout of industrial action, future strikes could be avoided simply by the government honoring current pension promises," said Wrack.
The union secretary called on UK ministers to present "proposals for the future that reflect the discussions we've held over the last three years and take account of the evidence we have presented about our occupation."
According to a government spokesperson, the proposed deal is "one of the most generous pension schemes in all the public sector."
Meanwhile, London Tube workers are set to stage a 72-hour strike later on Monday over the London Underground's plans to cut hundreds of jobs.