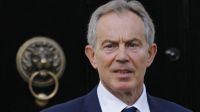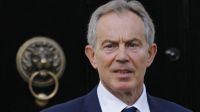 The UK government has been trying to block US documents that could prove the administration of former British prime minister, Tony Blair, was complicit in ill-treatment of dozens of 'terror suspects,' a new report says.
The Daily Mail published the report on Monday, stating that the UK government has also lobbied against the release of sensitive material that could reveal its role in the capture of those suspects.
A group of US senators are to publish within weeks a top secret report on America's torture program carried out in the wake of the 9/11 attacks.
The 6,300 files will expose the CIA torture methods, especially the controversial interrogation technique known as waterboarding, and could reveal the extent of British cooperation in the program.
The British daily's report that Britain has put pressure on the United States to block the release of the files were disclosed in legal correspondence in the case of Abdel Hakim Belhadj, a senior Libyan politician and former opponent of slain ruler Muammar Gaddafi, who is suing Britain over his kidnap and forced extradition to Libya in 2004.
Belhadj based his information on intelligence provided by Craig Murray, the former British ambassador to Uzbekistan, who has said that sources within UK Foreign Office have secretly briefed him about Britain's diplomatic lobbying against the release of the documents.