Europe
Economy
World News
UK in Chaos: Army on standby as petrol stations run dry
The UK army has been put on standby to supply the country's petrol stations running dry after some of them closed as their ability to transport fuel from refineries was hit by an industry-wide shortage of truck drivers, triggering a spate of panic-buying.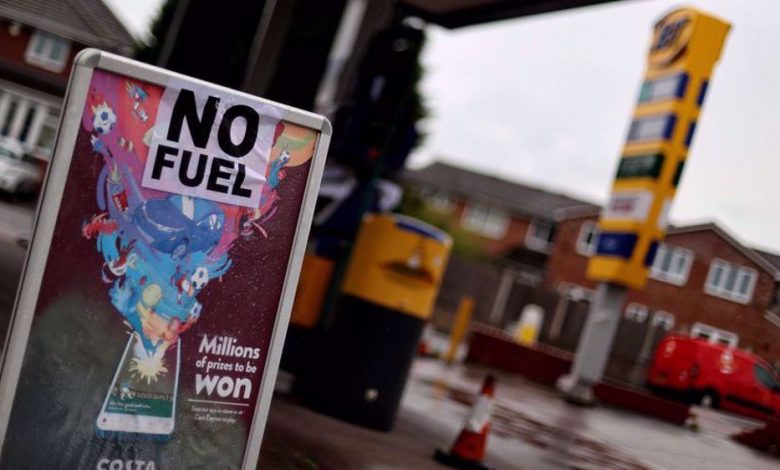 The government announced late on Monday that a "limited number" of British Army tanker drivers had been "brought to a state of readiness" and could be deployed to deliver fuel where it is needed most.
"If required, the deployment of military personnel will provide the supply chain with additional capacity as a temporary measure to help ease pressures caused by spikes in localized demand for fuel," UK Business Secretary Kwasi Kwarteng said in a statement.
"While the fuel industry expects demand will return to its normal levels in the coming days, it's right that we take this sensible, precautionary step," Kwarteng added, without specifying how many drivers had been readied.
Under an emergency plan considered by Prime Minister Boris Johnson's government, up to 5,500 foreign truck drivers are set to be granted temporary work visas, while competition law is suspended in order to allow suppliers to deliver fuel to rival operators.
Ruby McGregor-Smith, the president of the British Chambers of Commerce, criticized the government's plan, saying the decision to offer the temporary visas was insufficient, comparing it to "throwing a thimble of water on a bonfire."
"Without further action, we now face the very real prospect of serious damage to our economic recovery, stifled growth as well as another less than happy Christmas for many businesses and their customers across the country," she said in a statement.
Speaking to the BBC Radio, Brian Madderson, chair of the Petrol Retailers Association, said the use of the army alone will not be enough to solve the crisis as soldiers may not have the necessary training to reload tanks at gas stations.
"It's not an absolute panacea. There is no one single lever which is going to be pulled by government and industry together which is going to sort this situation," he added.
The British oil giant BP temporarily closed some of its 1,200 petrol stations earlier last week, triggering long queues at some gas stations in London and Kent as motorists rushed in an attempt to fill up.
The Petrol Retailers Association (PRA), which represents independent fuel suppliers, was at pains to confirm that as many as two-thirds of the 5,500 service stations operated by its members have run out of fuel, with the rest of them "partly dry and running out soon."
The post-Brexit strict national rules, along with the pandemic crisis, have left the UK facing a shortage of truck drivers as tens of thousands of European Union (EU) nationals have left trucking jobs and other occupations in the UK. According to the Road Haulage Association, there is a shortage of around 100,000 truck drivers in the country, which has led to the rise of petrol and gas prices.