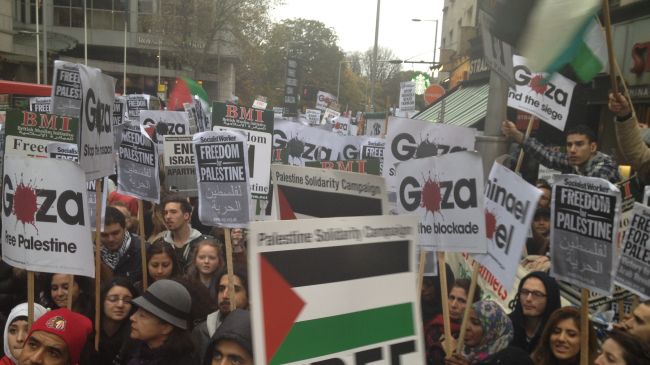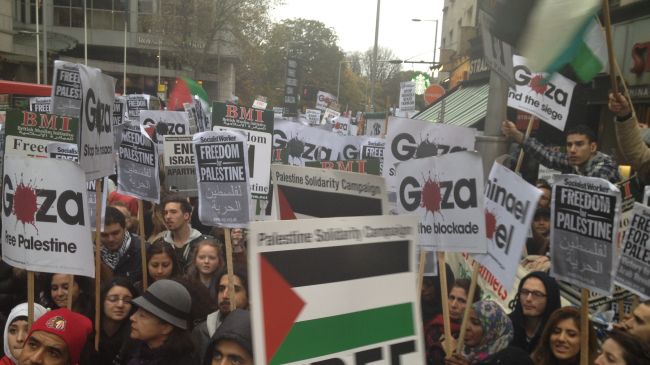 British anti-war activists are set to march later on Saturday in a national demonstration in support of the innocent residents of the besieged Gaza Strip outside the British prime minister's office and the Israeli embassy in London.
The protest organized by anti-war campaigners the Stop the War Coalition will be held in "solidarity with Gaza" to call for "an end to the siege" on the impoverished coastal strip.
"It has suffered a barbaric onslaught by the world's fourth most powerful military, killing over 150 Palestinians, injuring over 1000 and devastating many areas," the Stop the War coalition said in a statement on its website.
"Our demonstration for Gaza starts at Downing Street to tell David Cameron and the British government that the green light they give to Israel's crimes is not in our name," it added.
The Israeli regime led an eight-day onslaught on Gaza, which is one of the most densely populated places in the world with 1.7 million people packed into a strip of land. More than 160 Palestinians were killed and some 1,200 were injured in the attacks during November 14-21.
The Stop the War march will feature addresses by British pro-Palestinian MPs as well as members of other anti-war and pro-Palestinian groups and union members including the Campaign for Nuclear Disarmament (CND), Palestine Solidarity Campaign, Unite the Union and Jews for Justice for Palestinians.
The latter sent a letter to the British Foreign Secretary William Hague back on November 20 in protest at his assertion that Hamas is mainly responsible for the Israeli assaults on Palestinians.
"We write to express our astonishment at your statement of 15th November, when you said that Hamas bears principal responsibility for the current crisis. It is difficult to square that with the recorded pattern of attacks or with the resulting deaths and injuries, and impossible to square it with the first-hand account of cease-fire negotiations," the letter said.
"The statistics provided by OCHA (the UN Office for the Protection of Civilians) is the most authoritative record of the intensification of the conflict. They show a pattern of mutual attacks during the year to the end of October 2012, with 73 Palestinians being killed while no Israelis were killed. Israeli forces also carried out incursions into Gaza together with destruction of crops and the targeting of fishermen within Gaza's Oslo-recognized maritime exclusion zone," it added.