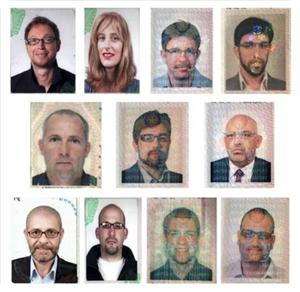 British government sources say members of an alleged terror team, charged with murdering a senior Hamas commander in Dubai last month, were Israel's Mossad agents.
The sources told The Daily Telegraph on Tuesday that three Irish passport holders who were allegedly part of an 11-member hit squad that murdered Mahmoud al-Mabhouh on the January-20 terror operation "were most likely Mossad agents carrying false documentation."
Last night, Dubai Police Chief Gen. Dhahi Khalfan Tamim released the passport photographs of suspects that include 10 men and a woman, vowing to issue arrest warrants against them.
Six of the suspects carried British passports; three others had Irish passports, while the other two possessed French and German documents.
Based on the report, British officials have ruled out the involvement of any Irish nationals in the plot, arguing that they "were Mossad agents using (false) Irish passports."
A spokesman for the Irish Department of Foreign Affairs also denied the allegation, saying "The Irish embassy in Abu Dhabi is in constant touch with the Emirates on a daily basis, but have received no official confirmation on any Irish nationals being involved."
The sources also dismissed the involvement of British nationals, saying that "there was no corroboration within Whitehall of any British involvement in the assassination plot."
Dubai's police had previously threatened to arrest Israeli Prime Minister Benjamin Netanyahu if it determined that Mossad was behind the terror operation.
The police chief said last night that "We do not rule out Mossad, but when we arrest those su