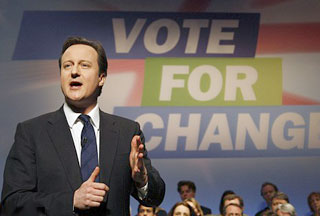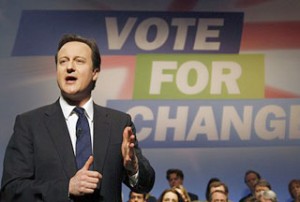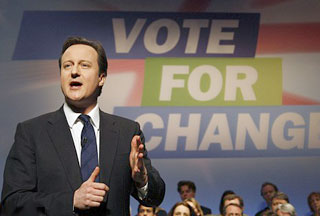 UK's main opposition leader has vowed to unseat Prime Minister Gordon Brown hours after a shock opinion poll suggested that the race could be tighter than expected.
Addressing a rally of his Conservative Party in Brighton on Sunday, David Cameron dramatically stated that it is now their "patriotic duty" to unseat Prime Minister Gordon Brown's ruling Labor party.
The fiery remarks came after the latest YouGov survey put the Conservatives and the ruling Labor Party virtually neck-to-neck, with the Tories leading by just two points.
Late last year, opinion polls showed the Conservatives ahead with double digits.
While acknowledging that his party now faced "a real fight," Cameron responded to the news with a passionate rallying speech, delivered without the aid of notes.
He vowed to tackle Britain's crippling debt crisis, create family-friendly tax and welfare policies, reform schools, cut immigration and clean up the political system in the wake of the MPs' expense scandal.
He also threatened to tear Brown's "dark" record apart in the election campaign.
"At this election, we're going to take out your record and tear it apart — piece by piece," the 44-year-old warned the premier.
Meanwhile, defending his election slogan "Vote for change" Cameron painted a positive vision of hope for Britain, insisting that he has "got what it takes to turn this country around."
Labor is due to launch its attack on the Tories on Monday.
Brown is expected to call for elections in early May.