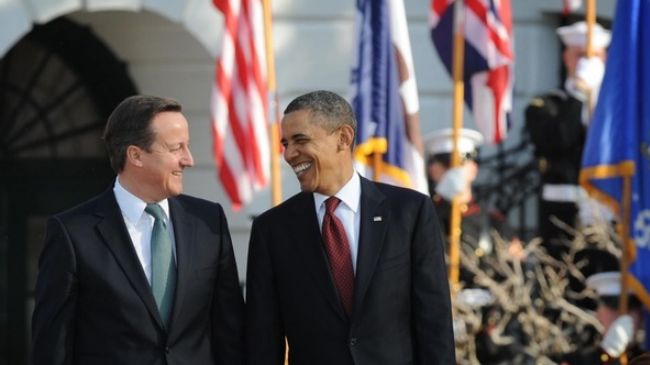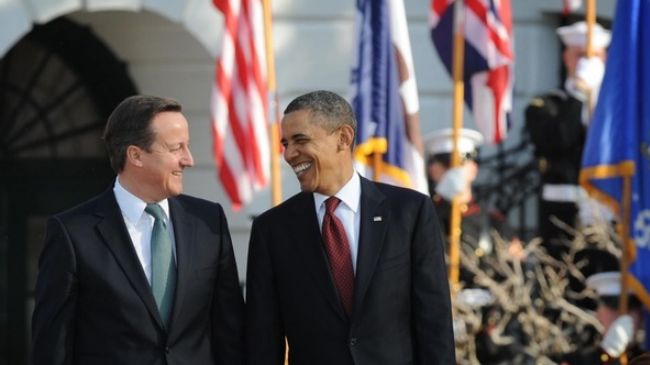 British Prime Minister David Cameron has arrived in Washington for talks with the US President Barack Obama with a focus on Syria and an EU-US trade pact.
Cameron, who is on his first US visit after Obama started his second term in office, will use his trip to discuss the way forward on Syria, especially after his recent meeting with Russian President Vladimir Putin ended with both sides acknowledging difference of views on the situation in the Middle Eastern country.
Cameron and Putin agreed after the meeting that they seek an end to the situation but the way they want to deal with the conflict is different.
Britain supports Syrian rebels and wants the ouster of Syrian President Bashar al-Assad , by increasing arms deliveries to the rebel groups while Russia opposes any foreign interference in Syria.
The British PM's three-day visit will begin at the White House and finish with a G8 meeting in the United Nations headquarters in New York.
Before heading to Washington, Cameron called US Secretary of State John Kerry to discuss Syria and his spokesman confirmed he and Kerry examined ways to persuade Russia to agree to sit down for talk on a settlement to the crisis in Syria based on the western approach.
"[They had talked about] how the UK, Russia and America could work together to successfully achieve the plan of a peace conference by the end of the month," the spokesman said.
This comes as Russia has so far snubbed the so-called Friends of Syria meetings spearheaded by the US after Russia and China vetoed a meddlesome Security Council resolution on Syria.
Cameron's spokesman added that he is also set to discuss with Obama a possible cooperation on increasing support for the Syrian rebels.