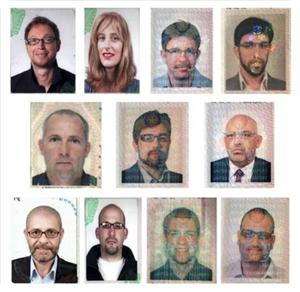 Britain has summoned Israel's ambassador over the use of fake European documents by the members of a terrorist team involved in the assassination of a senior Hamas commander in Dubai last month.
Amid speculations that the members of the hit squad "were most likely Mossad agents carrying false documentation," the Israeli ambassador to London was summoned to the Foreign Office on Thursday, AFP reported.
"Given the links to Israel of a number the British nationals affected, there will be a meeting between the FCO (Foreign and Commonwealth Office) permanent under secretary and the Israeli ambassador (on Thursday)," the British government spokesman said Wednesday.
"The defrauding of British passports is a very serious issue. The government will continue to take all the action that is necessary to protect British nationals from identity fraud," the spokesman added.
The 11-member team, with six British, three Irish, one French and one German passport holders, is believed to have murdered senior Hamas official Mahmoud al-Mabhouh on January 20, the Dubai police said on Monday.
British government sources, on Tuesday, ruled out the involvement of any British and Irish nationals in the plot, saying the murderers were mostly Mossad agents using forged documents, according to The Daily Telegraph.
Earlier, Britain's Prime Minister Gordon Brown vowed "to carry out a full investigation into the passports affair."
Ireland has also voiced concern over the use of fake Irish passports. Ireland's Foreign Minister Micheal Martin said it had received new information from authorities in the United Arab Emirates.
The new data "confirms that the passports used were fraudulent," he said, but added: "The new information … indicates that genuine Irish passport numbers were used."
"The Minister for Foreign Affairs regards any activity which would jeopardize the integrity of the Irish passport as extremely serious," Martin added.
He said Dublin was liaising closely with the UAE authorities and Irish police, as well as Britain, Germany and France "with a view to working with them in this investigation."