Europe
UK teachers plan autumn of discontent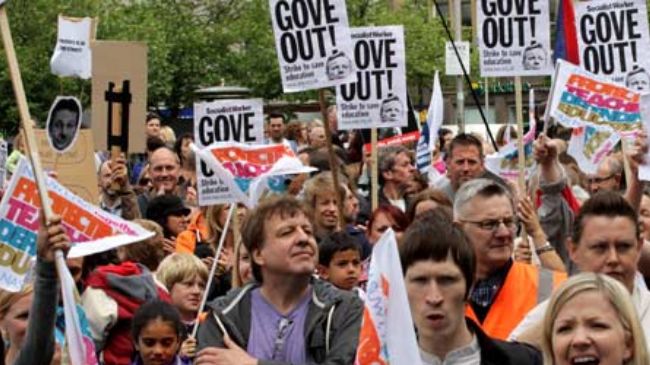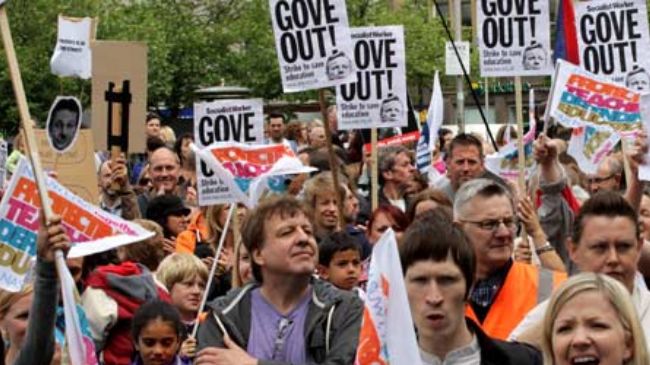 Thousands of teachers across England and Wales will stage a massive one-day strike and a set of rolling walkouts in the autumn in a continuing row over pay, pensions and work conditions.
The concerted action, announced by the National Union of Teachers (NUT) and National Association of Schoolmasters Union of Women Teachers (NASUWT), is planned for the end of autumn and will be preceded by two phases of rolling regional strikes between September 30 and October 14.
The announcement comes just weeks after the two unions held a regional walkout that shut the majority of schools in the north-west England.
At the time, the unions had described the action as a warning shot for the government that could lead to an autumn of discontent.
NUT general secretary Christine Blower said after the announcement that Education Secretary Michael Gove is well aware that "teacher morale has plummeted" since he has taken office.
"Teachers are angry at the government's continual undermining of their pay, pensions and working conditions," she said.
"Strike action is always a last resort for teachers.… Teachers, however, have been left with no option. If we do not take a stand now to defend the profession, then the consequences for teacher recruitment and education will be disastrous for all," she added.
Her position was echoed by NASUWT leader Chris Keates who said Gove has the opportunity to prevent the strikes "by demonstrating that he is willing to engage seriously on the issues that we have put to him".
However, he said the secretary is now leading a "relentless attack" on the profession that is undermining the education of students.