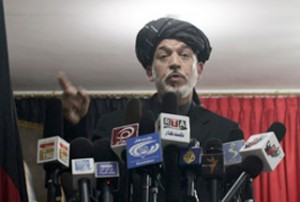 Afghanistan's influential Ulema Council gives credence to President Karzai's comments against the West, saying that he gave voice to Afghan's call for an end to inaction.
Karzai recently accused the West of interfering in his country's affairs by promoting fraud during the country's recent presidential election.
Head of the Ulema council, Qiamuddin Kashaf, who was addressing a gathering of about 150 members of the council in Kabul, said that Karzai's stance, which was in line with the official stance of the council, was an "Islamic stance" that called for the Afghan nation to be given due respect for striving to achieve liberty, independence and self-sufficiency, the BBC reported on Wednesday.
"This nation will not accept becoming a servant of anyone," Kashaf added.
The council also condemned the killing of civilians by foreign troops.
Afghanistan's Ulema Council is a state body that has about 3,000 members across the country.