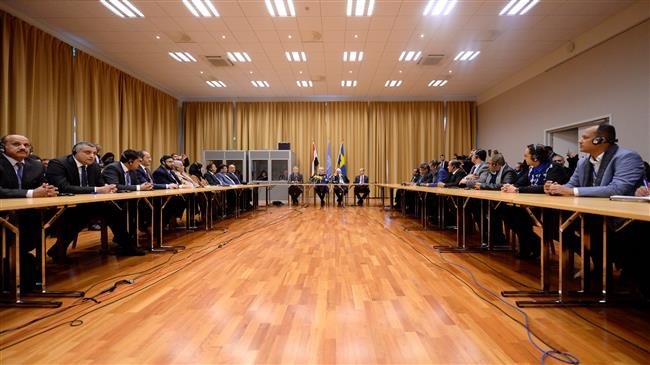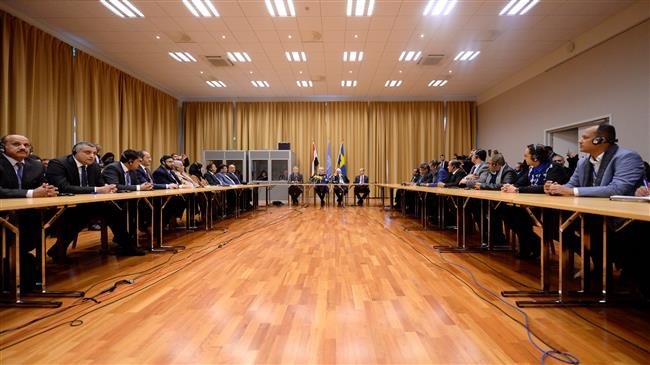 A round of talks between delegations from Yemen's Houthi Ansarullah movement and the country's former Saudi-backed government open in Sweden under the auspices of the UN in an effort to find a political solution to the Yemen conflict and end a devastating Riyadh-led war on the country.
The negotiations, which kicked off on Thursday in the Swedish town of Rimbo, mark the first attempt since 2016 to end the Saudi-led war, which has killed tens of thousands of Yemenis since its onset in early 2015.
Speaking alongside Swedish Foreign Minister Margot Wallstrom at a presser, UN special envoy for Yemen Martin Griffiths described the renewed talks as a "critical opportunity" to restore peace to Yemen as delegates from the Houthi movement and the government of ex-president Abd Rabbuh Mansur Hadi appeared in public together for the first time since 2015.
"During the coming days we will have a critical opportunity to give momentum to the peace process," Griffiths told reporters.
The UN diplomat also said Yemen's warring parties agreed to a prisoner swap that would allow thousands of families to be reunited.
The Saudi regime and its allies launched the bloody war to reinstall Hadi, who had stepped down and fled to the Saudi capital amid a political conflict with the Houthi Ansarullah movement, which is currently Yemen's de facto power.
In the absence of an effective government, the Houthi movement has taken state affairs into its own hands. It has also been defending the country against the Saudi aggression.
The "coming days are a milestone," Griffiths said. "Don't waver… let us work in good faith … to deliver a message of peace."
The UN envoy further warned that half of the Yemeni population could become vulnerable to famine if no solution is reached to end the war.
He also said that as part of confidence building measures, Yemen's warring parties agreed to a prisoner swap that would allow thousands of families to be reunited.
Sparing the Yemeni port city of Hudaydah from destruction would feature prominently at the peace talks, Griffiths said. The strategic Red Sea port city has been the subject of an internationally-criticized concerted push by the Saudi regime and its allied militants, but they have failed to seize it.
The UN stepped up its push for peace in Yemen amid global outrage at the Saudi regime over the gruesome assassination in early October of dissident journalist Jamal Khashoggi, which is being widely blamed on the architect of the Yemen war, Saudi Crown Prince and Defense Minister Mohammed bin Salman.
Under growing international pressure, Riyadh and its allies ultimately submitted to Ansarullah's demands and returned to the negotiating table in the hope of finding a way out of the war, which has failed to achieve its objectives.