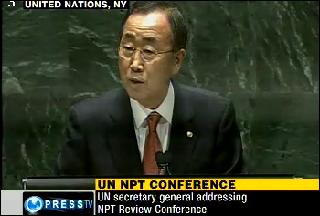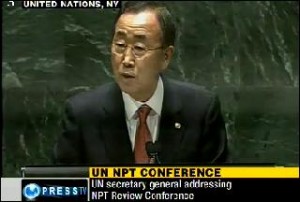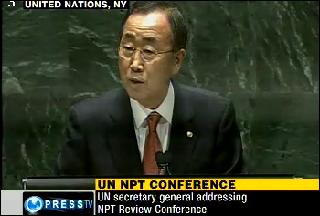 Opening the nuclear non-proliferation review conference in New York, UN chief Ban Ki-moon said the world expected nuclear-armed states to "act" on disarmament.
"This day is of immense importance to human kind. Hopes and expectations are high. The world's people look to you for action. Action to protect them from the destructive power of nuclear weapon," Ban told delegates at the UN headquarters on the first day of the 2010 Review Conference of the Nuclear Non-Proliferation Treaty (NPT).
Ban went on to insist that "disarmament and non-proliferation were among his priorities," an agenda which he regretted had been ignored for too long.
"That is why I have been sounding the alarm about many sub-nuclear weapons. I have put forward a concrete action plan-convinced that our moment is now."
Evoking the aftermaths of tests in Kazakhstan's former Semipalatinsk Test Site, Ban warned that 65 years after the devastations that resulted from the first atomic bomb dropped on Hiroshima, "the world still lives under the nuclear shadow."
Iranian President Mahmoud Ahmadinejad, whose visit to the world body's headquarters in New York caused a controversy, is expected to deliver a speech later on Monday.
Last month, 14 US senators penned a letter of protest, calling on Washington to refrain from issuing Ahmadinejad a visa.
The president is also expected to highlight the obligation of nuclear-armed powers to comply with the NPT pillars — especially disarmament and the right to peaceful nuclear energy.