Africa
World News
UN chief says fighting has escalated in Libya
United Nations (UN) Secretary-General Antonio Guterres has expressed deep frustration with the situation in Libya, where he says fighting has escalated.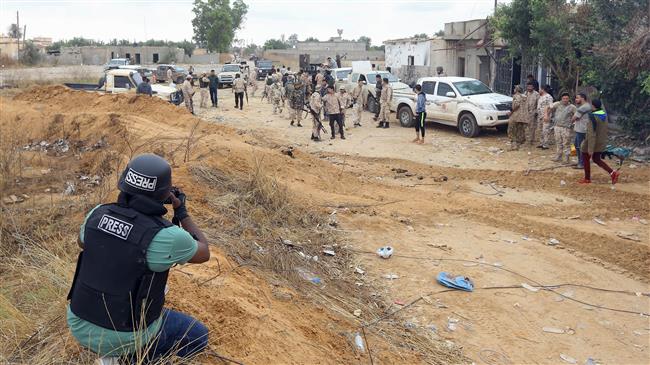 Speaking at a news conference at the UN headquarters in New York on Tuesday, Guterres criticized the countries that met in the German capital, Berlin, last month to push for peace in Libya, saying violations of a UN arms embargo on the North African country continued despite agreements reached by the parties at the peace summit.
"Escalation is back, arms are flowing, and offensives are increasing. All situations are different but there is a feeling of growing instability and hair-trigger tensions, which makes everything far more unpredictable and uncontrollable, with a heightened risk of miscalculation," Guterres said.
"We had a number of countries coming together in Berlin where they committed not to interfere [sic] in the Libyan process and they committed not to send weapons or to participate in any way in the fighting. Now, the truth is that the Security Council embargo remains violated," he added.
On January 19, countries participating in the peace summit for Libya in Berlin agreed to respect the existing arms embargo on Libya and laid out plans to monitor its implementation. The participants were the United States, Russia, Turkey, Egypt, the European Union, and the African Union.
Guterres called the situation in Libya a "scandal," saying "the only good news" there was the mediation efforts of the UN's envoy for the country, Ghassan Salame.
On Tuesday, Salame said the warring sides in Libya had agreed in principle to transform a shaky truce into a permanent ceasefire during UN-brokered talks in Geneva.
Libya rivals agree to ceasefire in principle, UN envoy saysThe United Nations (UN) envoy for Libya says the warring sides in the North African country have agreed in principle to transform a shaky truce into a permanent ceasefire.
Libya's internationally-recognized government, which is seated in the capital, Tripoli, has been fighting rival claims to power by another camp that has based itself in the eastern city of Tobruk. The eastern camp is supported militarily by militia under the command of a rebel commander, Khalifa Haftar.
Haftar's forces launched an assault on the capital to unseat the government in April last year. Fighting has been ongoing, and numerous attempts to broker peace between the two have since failed.
The warring sides each receive patronage from several foreign countries.