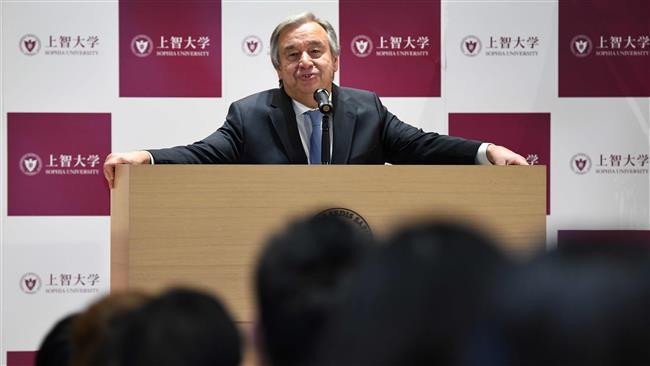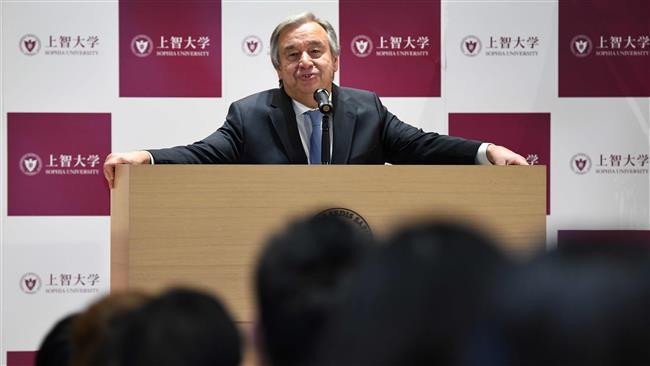 United Nations chief Antonio Guterres has slammed Myanmar for arresting two journalists covering the "tragedy" of the Rohingya Muslims in the Southeast Asian country.
Myanmar said on Wednesday that security forces had arrested two Reuters journalists, Wa Lone and Kyaw Soe Oo. The two had been writing news reports about a military crackdown on the Rohingya Muslim minority community in Rahkine State that has forced almost 650,000 people to flee to neighboring Bangladesh.
"Probably the reason why these journalists were arrested is because they were reporting on what they have seen in relation to this massive human tragedy," Guterres said.
The UN has described the state-sponsored violence against the Rohingya in Rakhine as "a textbook example of ethnic cleansing."
Guterres told a news conference in Tokyo on Thursday that the arrest of the reporters showed that press freedom was eroding in Myanmar.
He said the international community should do everything in its power to secure the journalists' release.
Myanmar's Ministry of Information said in a statement on Wednesday that the reporters had "illegally acquired information with the intention to share it with foreign media."
Wa Lone and Kyaw Soe Oo went missing on Tuesday evening after they were invited to meet police officials over dinner on the outskirts of Yangon.
Myanmar's Ministry of Information said in its statement that the Reuters journalists and two policemen faced charges under the British colonial-era Official Secrets Act. The 1923 law carries a maximum prison sentence of 14 years.
Myanmarese authorities have not disclosed where the journalists are being held. Police Lieutenant Colonel Myint Htwe of the Yangon Police Division told Reuters the reporters' location would not be disclosed until the investigation was complete.
Myanmar's army has so far denied widespread accounts of violence against the Muslim Rohingya minority.
Doctors Without Borders said on Thursday that at least 6,700 members of the persecuted Rohingya minority had been killed in the state-sponsored violence in Myanmar only in a period of one month beginning on August 25.
Myanmar claims only 400 people have been killed.