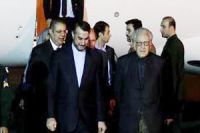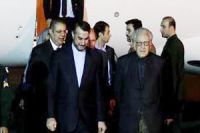 The UN chief's envoy on Syria, Lakhdar Brahimi, has emphasized on the constructive cooperation of effective countries including Iran for finding a peaceful solution to the Syrian crisis.
According to IRIB World Service, citing IRNA, in a meeting with Iran's Deputy Foreign Minister, Hussein Amir-Abdullahian, in Tehran on Saturday night, Brahimi said that the Syrian crisis can be considered as the main threat posed against the entire region's security, and therefore one should not imagine that there is a military solution to this crisis. It should solely be solved within the framework of a peaceful political process.
He considered the cooperation of all influential countries for the resolution of this crisis as the most important factor that would lead to Geneva-2 meeting's success, while terming Iran's presence in this meeting as a must.
Meanwhile, Iran's deputy foreign minister, for his part, announced Tehran's complete preparedness to continue its assistance for peaceful resolution of the Syrian crisis.
This senior Iranian official added that we should set the stage for the people of Syria to take their destiny into their own hands and no plan should be imposed on the Syrian government and nation by foreign powers.