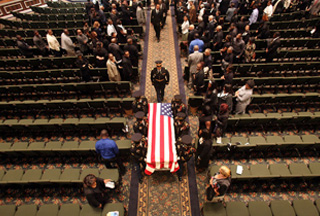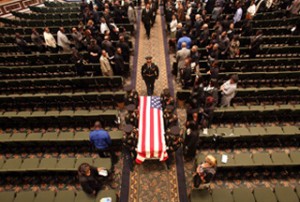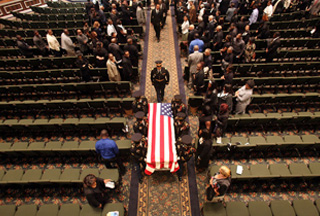 Despite widespread discontent over the US' handling of war in Afghanistan, the UN Security Council has extended the mandate of foreign troops for one more year.
A resolution by the 15-member council called for bolstering NATO-led forces in the country to counter growing Taliban insurgency.
The resolution also urged more personnel, equipment and other resources for the foreign troops across the war-ravaged country.
The call came at a time when lethal blasts in Kabul near the Interior Ministry building and the Indian embassy on Thursday killed 17 and injured another 63, most of them civilians.
Despite the already heavy presence of coalition forces for more than eight years, the insurgency has skyrocketed in southern and eastern Afghanistan, where the Taliban has stepped up attacks against US and NATO occupation troops with roadside bombs and ambushes.
A security map by the London-based International Council on Security and Development (ICOS) has recently showed a deepening security crisis with substantial Taliban activity in all corners of the war-ravaged country.
This comes as US President Barack Obama is weighing a request for 40-thousand extra troops in Afghanistan.
The developments come as Obama administration was also looking at whether it could work with some members of the Taliban insurgents in the troubled region.
The US and its allies invaded Afghanistan in 2001 to allegedly eradicate insurgency and arrest its leaders. The first military power in the world however says it has been unable to arrest or kill any of the main militant leaders including Al-Qaeda's Osama Bin Laden and Taliban's Mullah Omar.
Meanwhile, US and NATO commander Stanley McChrystal has warned that the war could be lost unless more troops are sent to the conflict-torn country.
McChrystal has called for troop reinforcements in response to the escalating Taliban insurgency, which is at its highest level since the US-led invasion of Afghanistan.
The current year has been the the deadliest for foreign forces, as well as Afghan civilians.
The mounting number of Western soldiers coming home in body bags has sent support for the war plummeting in Europe, Canada, and the United States.
Canada and several European countries seem to oppose further commitments to the mission in Afghanistan.
Afghan President Hamid Karzai has said that US-led troops had brought more misery to the Afghan people.
Pakistani officials in Islamabad say that the NATO's wrong policies were also destabilizing their nuclear-armed country as well.