Syria
UN, Lebanon plan to set up camps for Syrian refugees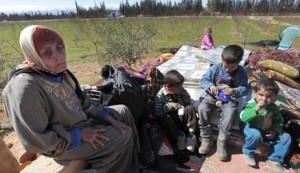 A Lebanese minister says his country is in talks with the United Nations over the setting up of "official" camps to shelter the Syrian refugees who have fled the foreign-backed crisis in their homeland.
"We have been holding talks among ourselves as well as with the United Nations regarding the establishment of official refugee camps for Syrians," Lebanese Social Affairs Minister Rashid Derbas told the Daily Star on Saturday.
Derbas further said about 1,100 refugee tents had already been set up for displaced Syrians across Lebanon, adding, however, that some of these settlements lack proper sanitation systems.
"We are trying to come up with a solution to that," the Lebanese minister stated.
Last month, the Office of the United Nations High Commissioner for Refugees (UNHCR) said the number of refugees who fled Syria and registered in Lebanon had exceeded one million, warning that most of them live in poverty.
UNHCR representative Ninette Kelley described the figure as a "devastating marker."
The Beirut government has repeatedly called upon the international community to fulfill their pledges to help Lebanon accommodate the high number of the Syrian refugees escaping the Takfiri violence in their home country.
On March 18, Ross Mountain, the Acting UN Resident and Humanitarian Coordinator in Lebanon, called on the international community to support Lebanon as the number of Syrian refugees continues to rise there.
Lebanese President Michel Sleiman has also urged the Arab countries to "share the brunt" of housing the Syrian refugees.
Syria has been gripped by deadly violence since 2011. The foreign-backed militancy has reportedly claimed over 150,000 lives and displaced millions of others in the Arab state.