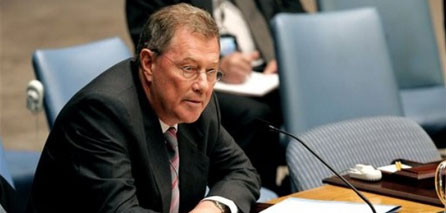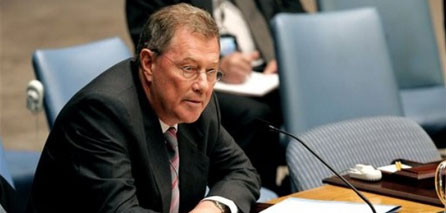 UN Special Coordinator for the Middle East Peace Process, Robert Serry, expressed his deep concern over Israel's recent settlement activity in Jerusalem and its decision to deport a number of members of the Palestinian Legislative Council from the city.
"I continue to follow up with concern the developments in East Jerusalem and the continuing tensions in the city after Israel's approval to build new units (in the Pisgat Ze'ev settlement)", Serry said in a press statement on Wednesday, considering the move a mistake and a violation of Israel's obligations to the road map.
The UN official added, "I am also concerned about reports of house demolitions in Jerusalem, and my office is closely monitoring the fate of four members of the Palestinian Legislative Council who are at risk of deportation from the city of Jerusalem."
In another context, he stressed that the United Nations will continue in its demand for a complete ending of the siege on Gaza so that the reconstruction of the Gaza Strip may be launched, noting that addressing the humanitarian situation in Gaza will only be addressed after lifting the blockade.
Meanwhile, Israel's Jerusalem municipality demolished two homes in Jerusalem last night, in a series of ongoing demolitions launched Tuesday morning, bringing the count of homes affected so far by the demolition operation to six.
Local sources said that the two recently destroyed homes, which were demolished on grounds of building without a permit, belonged to Palestinian citizens, Amer Taweel and Ahmad Mushahara of the Sala district located between Silwan and Mount Mukabbir south of the Old City.
The sources added that Jerusalem municipality bulldozers crushed one homeowner's car parked in front of his home without allowing it to be removed from the location.
Two other houses in Beit Hanina, north of Jerusalem, were destroyed earlier in the day, as well as three homes yesterday in the Issawia district, in an area which Israeli occupation authority seeks to convert to a public park.
Eyewitnesses said that the demolitions in Beit Hanina were paired with attacks by soldiers on homeowners and sympathizing locals.