Syria
UN team arrives in Syria for talks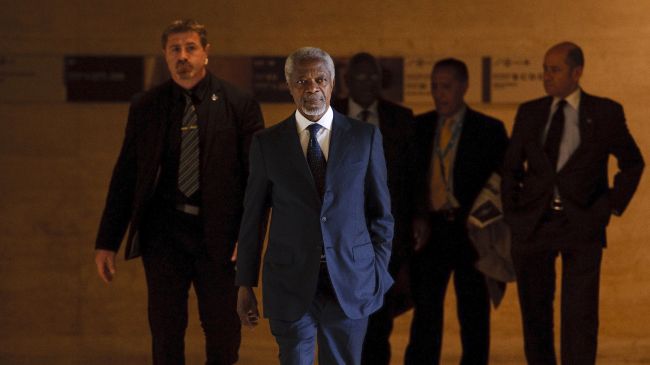 An advance team representing the UN-Arab League mediator, Kofi Annan, has arrived in Damascus to discuss the deployment of observers to monitor a ceasefire plan in Syria, Annan's spokesman says.
"The planning team are all in Damascus now. There are about 10 or 11 of them," Annan's spokesman Ahmad Fawzi said on Thursday.
Fawzi added that the team led by the Norwegian general Robert Mood will meet Syrian officials to discuss "the modalities of the eventual deployment of the UN supervising mission."
As part of a six-point peace initiative proposed by the joint UN and Arab League special envoy, Kofi Annan, UN plans to deploy 200-250 unarmed observers after the agreed April 10 deadline for a ceasefire in Syria. The deployment also requires a UN Security Council resolution.
Fawzi said Syria had already reported some troop withdrawals. The UN expects a full truce by 12 April.
Syria has been experiencing unrest since mid-March 2011 and many people, including security forces, have been killed by U.S, Zionist Israel and their regional allies-backed and financed terrorists.
The West and the Syrian opposition accuse the government of killing the protesters. But Damascus blames "outlaws, saboteurs and armed terrorist groups" for the unrest, stating that it is being orchestrated from abroad.