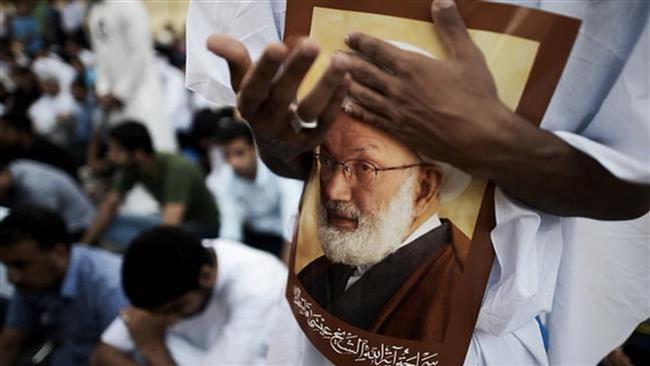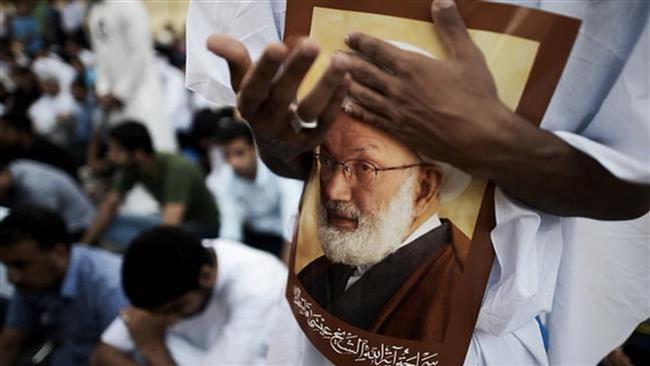 Bahraini and international human rights activism groups write to the United Nations, the United States and the European Union, urging them to take action against Manama's persecution of the kingdom's most senior Shia cleric.
The open letter, dated May 4, also drew attention to the Bahraini administration's chronic violation of the rights of Shias, who hold demographic majority on the Persian Gulf island.
It was signed by the Bahrain Center for Human Rights, the Bahrain Institute for Rights and Democracy, Bahrain Interfaith, European Center for Democracy and Human Rights, Britain's ARTICLE 19 and Americans for Democracy & Human Rights in Bahrain.
They said they were expecting the addressees to act in advance of the trials of Sheikh Isa Qassim as well as Sheikh Hussein Mahrous and Mirza al-Dirazi, his office's head and staffer, respectively.
The court session has been scheduled for May 7.
Sheikh Qassim is the spiritual leader of Bahrain's dissolved opposition bloc, the al-Wefaq National Islamic Society. He was stripped of his citizenship on June last year over accusations that he used his position to serve foreign interests and promote "sectarianism" and "violence." He has denied the allegations.
Similar charges face the two other defendants.
"We urgently request that you publicly call on the Government of Bahrain to drop the politically-motivated charges against these three men, and to call for Royal Decree 55/2016, which stripped Sheikh Qassim of his citizenship and rendered him stateless to be dropped ahead of his trial in absentia," said the undersigned.
They reminded that Qassim used to be a former member of Bahrain's Constitutional Assembly and Parliament.
The letter also said Bahrain's hometown of Diraz, on the island's northwest, has been under a police blockade since the cleric had his citizenship taken away.
A police raid on a protest sit-in in front of his residence in January had killed an 18-year-old, they said, and noted, "No government entity has acknowledged responsibility for this attack nor have any independent and impartial investigations occurred to date."
Bahrain has been witnessing a popular uprising against the ruling Al Khalifa regime in February 2011, with anti-regime protesters taking to the streets on an almost daily basis ever since.
The demonstrators are demanding that the Al Khalifah family relinquish power and let a just system representing all Bahrainis be established.
Scores of people have been killed and hundreds of others wounded or detained amid Manama's crackdown on dissent and widespread discrimination against the country's Shia majority.
The signatories also reminded that five UN Special Rapporteurs had expressed concern over the systematic persecution and repression of Bahrain's Shia last year.