Human Rights
Middle East
Saudi Arabia
Yemen
UN, WHO fail to open humanitarian medical air bridge for Yemenis: Health minister
The Yemeni minister of public health and population has criticized the United Nations and the World Health Organization (WHO) for their failure to open a humanitarian medical air bridge for Yemeni civilians, who are suffering from conditions that cannot be treated inside the war-battered Arab country.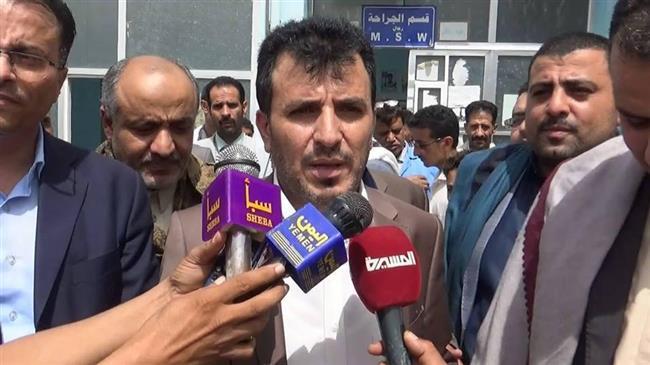 Speaking at a press conference in the Yemeni capital city of Sana'a on Saturday, Taha al-Mutawakel said the international bodies have not managed to ensure a mechanism for the medical transfer of critically ill patients, by chartered air flight, to medical facilities abroad that are equipped to handle such cases, slamming the international community's silence on the gradual death of 30,000 patients, who are in dire need of treatment outside Yemen.
Mutawakel highlighted that October 20 had been set for the transfer of the first batch of fifty patients abroad, but the United Nations announced only 24 hours before the move that it could not open the humanitarian air bridge from Sana'a International Airport. The patients who had traveled to Sana'a to make use of the service had to return to their hometowns as a result.
The Yemeni health minister then called on the UN and WHO to disclose the reasons for their breach of agreements with authorities in Sana'a in an official statement, otherwise they will be considered complicit with the countries of the Saudi-led coalition of aggression in crimes against Yemeni people.
Back on September 16 last year, the WHO representative in Yemen, Dr. Nevio Zagaria, announced that the UN was working to create a humanitarian medical air bridge in Yemen.
Tickling a Yemeni child 'like tickling a ghost': UN officialDavid Beasley expressed his desperation over the humanitarian situation in Yemen after his three-day visit.
"The aim is to help patients suffering from cancer, chronic diseases and congenital anomalies receive the treatment they need. Twelve conditions have been agreed. It's so important that people who have these conditions receive support and care," Zagaria said at the time.
"The civilians who will benefit include patients suffering from leukemia, early stage tumors, cervical and thyroid cancer, and patients who need radiotherapy, and bone marrow and kidney transplants," he added.
Speaking in an exclusive interview with Press TV in late May, the Yemeni health minister said the Saudi blockade had hampered efforts to help Yemeni civilians with medical assistance.
'Saudi blockade hinders delivery of medicine to Yemenis'Yemen's health minister says the Saudi blockade has hampered efforts to provide Yemeni civilians with medical assistance.
He said many Yemenis were suffering from acute malnutrition.
Mutawakil added that there were more than 8,000 dialysis patients, but they were denied treatment because the Saudis were preventing the entry of dialysis equipment and supplies.
The Yemeni health minister further highlighted that the number of cancer cases had also increased due to Saudis' relentless bombardments and their use of internationally-banned ammunition.
Saudi Arabia and a number of its regional allies launched a devastating military campaign against Yemen in March 2015, with the goal of bringing the government of former president Abd Rabbuh Mansur Hadi back to power and crushing the Houthi Ansarullah movement.
US arms end up in al-Qaeda hands in Yemen: CNNAmerican-made weapons, supplied to the US-allied regimes waging a war on Yemen, end up in the hands of the militants they back, CNN reports.
The US-based Armed Conflict Location and Event Data Project (ACLED), a nonprofit conflict-research organization, estimates that the war has claimed more than 91,000 lives over the past four and a half years.
The war has also taken a heavy toll on the country's infrastructure, destroying hospitals, schools, and factories. The UN says over 24 million Yemenis are in dire need of humanitarian aid, including 10 million suffering from extreme levels of hunger.