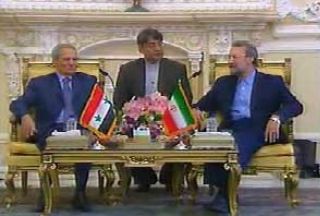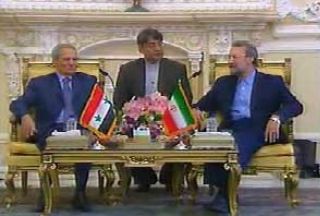 Iran's Parliament speaker has described Iran-Syria relations as 'very good and brotherly', saying there is a cordial relationship between the people and officials of both countries.
In a meeting with Syrian First Vice-President Farouq al-Shara on Wednesday, Ali Larijani underlined the two sides need to fully tap into the existing potential to forge closer cooperation and boost reciprocal ties, reported IRIB.
Iran's top parliamentarian touched on regional and international developments, adding the era of unilateralism in international relations is over.
"The conflicts in Afghanistan, Iraq and other parts of the world have proven the policy of unilateralism is a nonstarter", added Larijani.
On neighboring Iraq, Larijani underlined that Iran favors a stable and integrated Iraq represented by all political groups in the country.
"Iraq's neighbors, especially Iran and Syria, play a key role in its political stability and development as well as the economic welfare of the Iraqi people", said Iran's parliament speaker.
The Syrian vice-president, in turn, described Iran-Syria ties as very-good and deep-rooted, adding the two states enjoy extensive relations in political, economic and cultural areas at regional and international levels.
He then said Tehran-Damascus cooperation plays a pivotal role in regional and international developments, particularly in Iraq and Palestine.
The Syrian veep expressed hope that all Iraqi political groups will take part in the nation's political process to see a calm and stable Iraq.