Islamic Unity
Union of Islamic Resistance Ulima countering new with hatched plots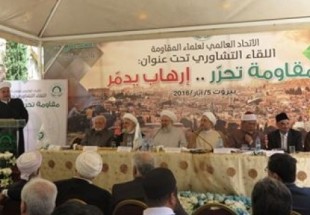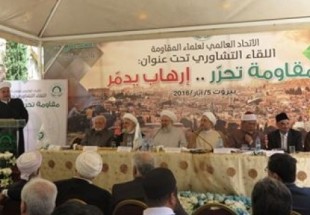 The Union of Islamic Resistance Ulima in its recent its two-day summit in Lebanese capital of Beirut mounted with religious clerics and scholars in attendance placed accentuation on the obligations shouldered by religious cleric and scholars, reported Taqrib News Agency (TNA).
Clerics, in the event, announced their all-out support from Islamic resistance, slamming political hatched plots and recent anti- Hezbollah propaganda. Paying tribute to Hezbollah for its one-of-a-kind role and resistance against the Zionism schemes, the event attendees named the following lines and the main peculiarity of the Islamic Resistance.
. Resistance has been formed based on the belief in God and his holy Prophet (PBUH) upon which the movement has been forwarded.
. Islamic takes and Muhammad Prophet's (PBUH) teachings have nothing to do with Takfiri , terroristic groups, and bigot regimes.
. Peace and resistance against foes with no fear of their numbers have provided the way for stability of resistance against the Zionism regime and the Arrogant World.
. The global Zionism is the main and serious enemy of resistance, given that all people suffered by them across the World of Islam and every corners worldwide are supported by the movement.
. Preserving unity in the World of Islam highly supported by the resistance movement is held as the main strategy; those groups seeking dispersion in the World of Islam are counted as enemies by resistance.
Lebanon Capital of Beirut has witnessed elevated meetings and international gatherings, each of which by nature provided the conducive ground for reasoning out the unsettled disputes and unresolved problems among Muslims.
Of those, the Union of Islamic Resistance Ulima held its recent meeting, in Lebanon to review ways for securing peace and boosting unity among Muslims, and in the long run sorting out the current problems Muslims are mired in.
World Union of Resistance Ulema Summit ended its two-day summit in Lebanese capital of Beirut on Thursday with a final statement with the theme of "Resistance liberates, terrorism collapses."
The meeting aimed at braving and discussing the standing setbacks the resistance movement faces with. Participants in the event also offered their proposals to lay the ground for advancing the set objectives of resistance.