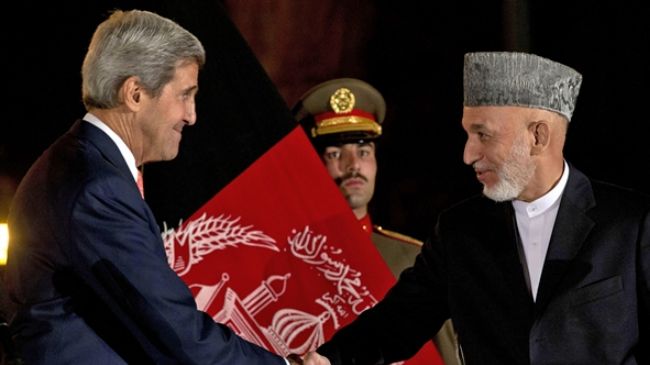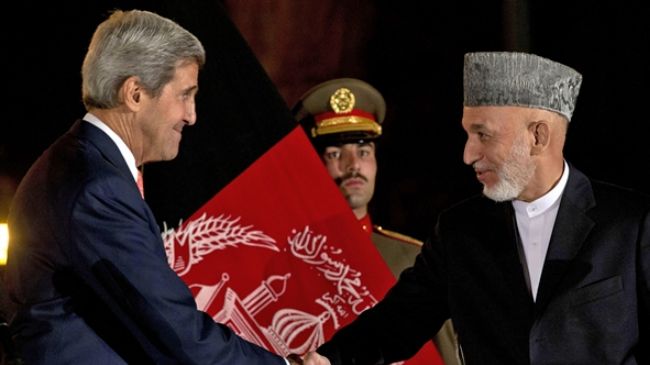 A political analyst says an agreement between the United States and Afghanistan over keeping American troops in the country after the 2014 withdrawal deadline is a "complex" issue.
"This is not a simple question of whether the US will stay or wants to stay. It is much much more complex," Kamran Bokhari, who is vice-president of Mideast and South Asian Affairs at STRATFOR, told Press TV on Saturday.
Late Saturday, US Secretary of State John Kerry left Afghanistan after two days of talks over the Bilateral Security Agreement (BSA) with Afghan President Hamid Karzai bore no fruit.
"I think that the Afghan government wants the United States to stay. The question is not whether to stay or not. Obviously, there is a drawdown that is going to happen," Bokhari said.
"The issue is the details of such an agreement. There are issues that the Afghans don't like and there are issues that Americans are concerned about," he added.
The analyst also noted that there are a number of factors that are "shaping these negotiations."
Afghanistan's election in April 2014 and the upcoming talks between the United States and Iran are among the factors, he said.
No agreement was made following Kerry's trip as there are still differences over the question of immunity for American troops in Afghanistan.
The United States says there will be no deal without the immunity, while Afghanistan considers it a violation of its sovereignty.
"One issue that is outstanding (is) the issue of jurisdiction," Kerry said. "We need to say that if the issue cannot be resolved, unfortunately there cannot be a bilateral security agreement."
The Afghan president also said that the issue would be discussed at a national assembly of tribal elders, adding that the immunity case was "above government authority."
"After several months of negotiation, and intense talks yesterday and today, we have reached a series of agreements," Karzai said. "The BSA has a lot of items, one is about immunity for foreign and US soldiers — we didn't have a united opinion on this issue."
The United States wants to keep as many as 10,000 troops in Afghanistan, but if no agreement is signed, all American troops would have to leave by Dec. 31, 2014.
There currently are an estimated 87,000 US-led troops in the country, including about 52,000 Americans.