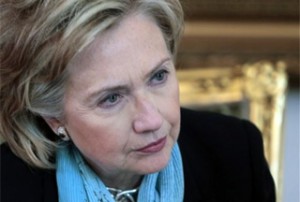 US Secretary of State Hillary Clinton says the US is seeking the "strongest" possible UN Security Council (UNSC) sanctions on Iran over its nuclear work.
In an interview with al-Arabiyya television aired on Wednesday, Clinton said that the US was focusing all its efforts on getting more sanctions against Iran.
"We want to try to get the strongest sanctions we can out of the United Nations Security Council … mostly to influence their (the Iranians') decision-making," the former first lady told.
She said that collecting international support for more punitive measures against Iran would be a better approach than military action.
The US believes "the better approach is to join at the international community, to work together toward sanctions, to exert maximum pressure on the Iranians, and to try every way we can to change their thinking," she said.
Washington has been leading efforts to push Iran into accepting a proposed deal that demands Tehran to send most of its low-enriched uranium abroad for further processing for the Tehran research reactor — which runs on 20 percent-enriched uranium and produces medical isotopes for cancer patients.
Iran has called for "concrete" guarantees that the fuel would eventually reach the country's soil but the demand has been shrugged off by the West, particularly the US, which has reiterated the deal would remain intact.
After potential suppliers failed to provide the required fuel, Iran announced on February 9 that it had started enriching uranium to the level of less than 20 percent to meet the country's demand.
Two days after that, President Mahmoud Ahmadinejad said that Iran had successfully produced the first stock of the 20 percent-enriched uranium, a declaration which was met with cynicism in the West.
The US threatened that it would seek fresh sanctions against Iran at the UNSC.
US-led calls for more sanctions against Iran have mainly received a chilly welcome by China, a veto-wielding member of the UNSC, which insists that diplomacy could still work regarding the Iranian nuclear work.