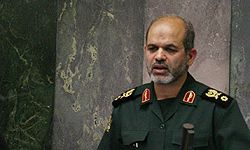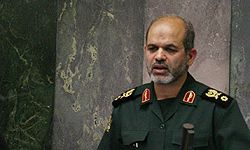 Referring to the remarks by his American counterpart Robert Gates in which he claimed a strong Iraq is a barrier for Iran's influence in the country, Vahidi reiterated, "Robert Gates does not have a show good intention. The ultimate goal of the US seems to be stirring a confrontation between Iran and Iraq and also Iraq's confrontation with other regional countries."
Gates had claimed that "a strong and democratic Iraq, particularly one with a multi-sectarian government, becomes a barrier to Iranian influence and not a bridge for it."
Vahidi reiterated that the remarks clearly contradict the US requests from Iraq's neighbors to help resolve the problem in Iraq.
He also underlined that such "baseless and unfounded" claims are aimed at taking attention of the world nations off the main and major threat to the world peace, which is Israel.
"The Islamic Iran enjoys good relations with the Arab countries and its neighbors specially the brotherly and friendly country of Iraq, and believes that many problems of the Muslim world will be solved through full unity and cooperation of the regional Muslim states," Vahidi added.