North America
Syria
US airstrikes killed 84 civilians at school, market in Syria in March: HRW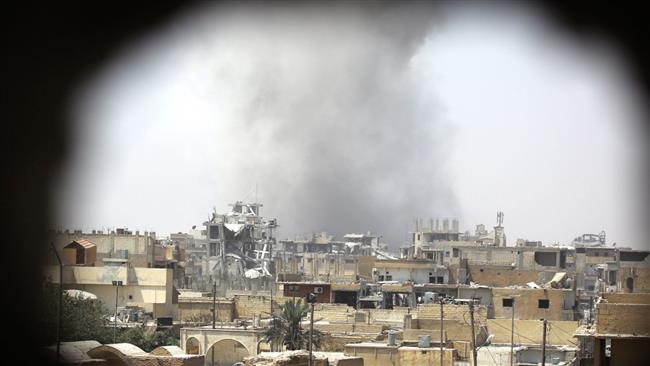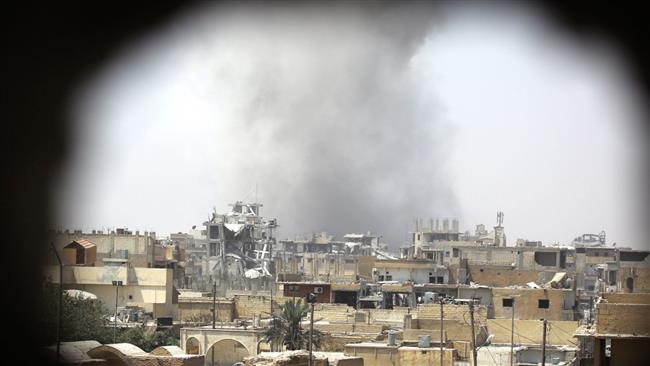 Human Rights Watch says the US killed at least 84 civilians, including scores of children, in airstrikes on a school and market near the northern Syrian city of Raqqah in March.
In a report released on Sunday, the rights group said US warplanes bombed a school housing displaced families in the town of Mansourah on March 20, killing at least 40 people, including 16 children.
At least 44 civilians, including 14 children, were killed when the US launched another airstrike on a market and bakery in the town of Tabqah on March 22.
"These attacks killed dozens of civilians, including children, who had sought shelter in a school or were lining up to buy bread at a bakery," HRW's deputy emergencies director Ole Solvang said.
"If coalition forces did not know that there were civilians at these sites, they need to take a long, hard look at the intelligence they are using to verify their targets because it clearly was not good enough," Solvang said.
The US has been conducting airstrikes against what it says are Daesh targets inside Syria since September 2014 without any authorization from the Damascus government or a United Nations mandate.
The US and its allies have repeatedly been accused of targeting and killing civilians and drawn criticism over their failure to destroy Daesh which they claim to be fighting.
US-backed Kurdish militants have seized over 90 percent of Raqqah and been pushing to capture as much land as possible in the oil- and gas-rich Dayr al-Zawr where Daesh faces a total rout in the face of Syrian army advances.
Since May when the Trump administration declared moving ahead with plans to support Kurdish militants in northern Syria, the US has been shipping heavy machine guns, mortars, anti-tank weapons and armored vehicles to the region, further inflaming tensions.
Tens of thousands of civilians have fled Raqqah in recent months, but up to 25,000 people are estimated to be still trapped in the city.
On Sunday, the so-called Syrian Observatory for Human Rights said more than 2,800 civilians have lost their lives in three years of US air raids across Syria.
The London-based group said as many as 427 people, including 137 minors and 113 women, were killed in US aerial attacks against civilian areas in the country between May 23 and June 23 this year.
In its Sunday report, HRW slammed the US methodology for assessing civilian casualties.
The group said the coalition reported having assessed the Mansourah and Tabqah strikes, while it did not visit the two sites of the strikes. Nor did it carry out witness interviews even though both places have been under SDF control for weeks.
"If the coalition had visited the sites and talked to witnesses they would have found plenty of evidence that civilians were killed in these attacks," Solvang said.
According to the monitoring group AirWars, between June when the US-led assault began on Raqqah and last month, 725 to 993 civilians were killed by American attacks, with deadly incidents occurring daily, the US online publication The Intercept reported.
The report said entire families are being killed by US airstrikes in Raqqah.
Syria has been fighting different foreign-sponsored militant and terrorist groups since March 2011. UN Special Envoy for Syria Staffan de Mistura estimated last August that more than 400,000 people had been killed in the crisis until then.