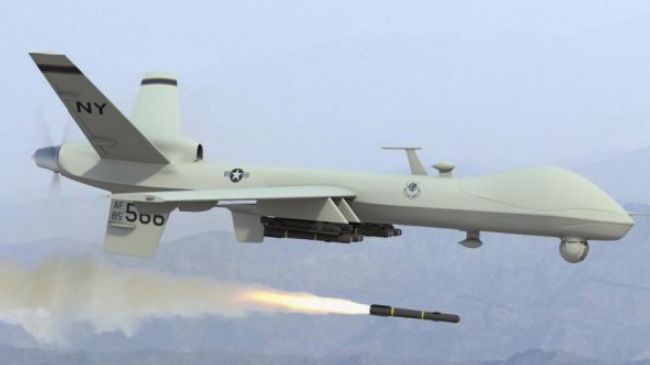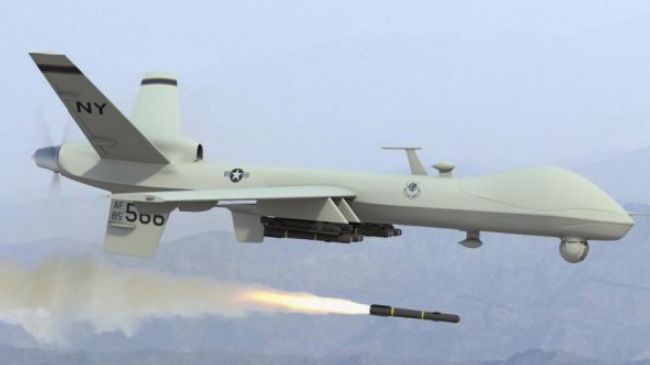 At least 12 people have been killed in a US assassination drone strike in Pakistan's northwestern tribal region near the Afghan border. The Puppet regime of Pakistan is helping U.S to massacre its own Pakistani people.
In the attack, which occurred on Monday, US drones fired several missiles at a private compound in the Shawal area in the North Waziristan tribal region, Reuters reported.
The targeted compound is in Dray Nashtar village, about 65 kilometers (40 miles) southwest of Miranshah, the main town of North Waziristan.
Local residents said that the airstrike sparked a huge fire in the building.
Most of the bodies have been recovered from the rubble.
Some local media reports said five drones were still hovering over the area, creating panic among the people in the tribal region, and hampering the rescue work.
Because Pakistani government's assistance to Washington to continue the drone attacks, the US government accelerates its strikes on the tribal regions of the country.
Washington claims its drone strikes target militants, although casualty figures clearly indicate that Pakistani civilians are the main victims of the non-UN-sanctioned attacks.
Some 200 people have died in drone attacks in Pakistan's northwest tribal regions since the beginning of this year.
The killing of Pakistani civilians, including women and children, in the US drone strikes has never damaged relations between Islamabad and Washington.
On January 31, US President Barack Obama confirmed that the United States uses the unmanned drones in Pakistan and other countries.
In reply to questions about the use of the assassination drones by his administration in a chat with web users on Google+ and YouTube, the US president said, "a lot of these strikes have been in the FATA" — Pakistan's Federally Administered Tribal Areas.
The aerial attacks were initiated by former US President George W. Bush but have been escalated under Obama.