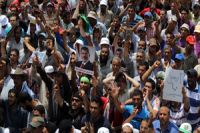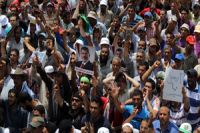 A senior Iranian lawmaker has dismissed Egypt's recent allegations about Tehran's interference in the North African country's internal affairs as a blame game.
Alaeddin Boroujerdi, the chairman of the National Security and Foreign Policy Committee of Iran's Majlis, said: "Remarks by Egypt's Foreign Ministry spokesman Badr Abdelatty about Iran's meddling in Egypt's domestic crises are aimed at shifting the blame for Cairo's inability to manage the country's domestic affairs and diverting the public opinion from the realities in Egypt."
He pointed out: "All countries, including Iran, comment on the Egypt issue; but based on international norms, that by no means equates interference."
Boroujerdi also argued that although most analyses attribute the recent crisis in Egypt to Morsi's mistakes, he had gained power within the democratic framework recognized in the world today and through election, and that altering this framework through military force is not acceptable.
He added: "Iran believes that the freedom and the votes of nations must be respected, and we hope the changes brought about in Egypt's political structure will be in such a way that the US and Israeli regime will not once again get the chance to capitalize on the situation in the country."
The Iranian lawmaker noted that the US and Zionist regime seek to sow discord and stoke tension in Islamic nations.