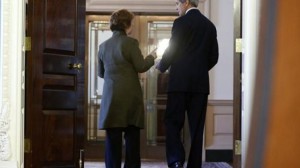 The United States has announced its opposition to a planned independence referendum in eastern Ukraine, saying such a move could trigger new sanctions against Russia.
US Secretary of State John Kerry said on Tuesday that the US and its allies "reject" efforts for organizing the referendum set for Sunday, calling the referendum "bogus" and saying "its pursuit will create even more problems in the effort to try to de-escalate the situation."
Referring to a referendum in the Autonomous Republic of Crimea on March 16 in which nearly 97 percent of the participants voted for independence from Ukraine, Kerry said, "This is really the Crimea playbook all over again."
Meanwhile, US Assistant Secretary of State for European and Eurasian Affairs Victoria Nuland, who disclosed earlier this year that Washington has "invested" about $5 billion in "promoting democracy" in Ukraine over the past two decades, has said that the independence referendum in eastern Ukraine "will be a trigger" for more sanctions against Moscow.
Pro-Russians are planning their own vote on self-determination in Ukraine's eastern cities of Donetsk and Luhansk.
Meanwhile, Washington and its Western allies support a May 25 presidential poll that they say can prevent Ukraine from plunging into a civil war.
The US Agency for International Development (USAID), which was recently in the headlines for the covert creation of a text-based social network to stir political unrest in Cuba, has said it will support Ukraine's media financially so that the pro-Western media outlets can cover the planned presidential election in the country.
USAID officials have said they want to add $1.25 million to the more than $10 million already promised by US government agencies to help bring about the expected election.
Russia has opposed the vote saying holding the election during the current violence would be "unusual" and "absurd."
Following a military offensive against pro-Russian activists in eastern Ukraine ordered by Ukrainian authorities, nearly 90 people have been killed in less than a week.
According to a report published on Sunday in the German newspaper Bild am Sonntag, dozens of CIA and FBI agents are involved in the offensive against the pro-Russian activists.