Iran
Middle East
North America
US attempts to re-impose sanctions on Iran doomed to failure: Russia's Lavrov
Russian Foreign Minister Sergei Lavrov has once again taken a jab at the United States' attempts to re-instate sanctions on Iran in violation of a multilateral 2015 nuclear deal, saying such unlawful bids are doomed to failure.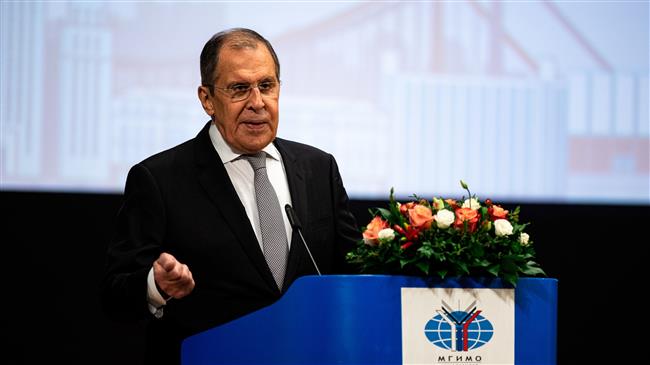 The United States has lost all its rights by abandoning its obligations under the nuclear deal, officially known as the Joint Comprehensive Plan of Action (JCPOA), Lavrov said in an address to students of the Moscow State Institute of International Relations on Tuesday.
"The United States wants now to use a rather complex, sophisticated legal instrument, which was laid down in the JCPOA and approved by the United Nations Security Council [Resolution 2231 that endorses the deal], to restore the collective sanctions," he said.
However, he emphasized, the snapback mechanism has been envisaged "exclusively for a situation when Iran does not fulfill its obligations, which is not the case."
The top Russian diplomat also criticized the US for threatening to re-impose unilateral sanctions on Iran and to ban all other countries from doing trade with the country.
The United States is trying to invoke the snapback mechanism in the multilateral nuclear agreement despite its withdrawal from the accord in May 2018 in violation of UN Security Council (UNSC) Resolution 2231.
All the remaining signatories to the JCPOA say the US does not have the legal right to trigger the provision set out in the JCPOA because it pulled out of the Iran nuclear deal in 2018.
Washington also suffered a humiliating defeat in securing an extension of the UN arms embargo against Iran at the Security Council last month. Only the Dominican Republic voted 'yes' to Washington's resolution calling for the extension of the embargo beyond October 18.
The president of the Security Council on August 25 dismissed attempts by the US to reinstate all UN sanctions against Iran, citing a lack of consensus in the 15-member body.
Elsewhere in his address, Lavrov said his country supports direct dialogue between the United States and Iran and is ready to help prepare the ground in this regard, if both sides are interested.
"It is always better to directly state one's claims and hear a direct answer," the top Russian diplomat said.
Lavrov's speech came on the same day that the remaining signatories to the Iran nuclear deal kicked off a meeting in Vienna to discuss ways to keep the JCPOA alive amid a US push to restore international sanctions on the Islamic Republic.
Germany, China urge preservation of JCPOA
German Foreign Minister Heiko Maas also said on Tuesday that Germany and China share a view that it is essential to preserve the JCPOA after the US withdrawal.
Speaking at a press conference following talks with his Chinese counterpart Wang Yi, Maas added that the issue had been extensively discussed at the UN Security Council over the past several weeks.