North America
Human Rights
Middle East
Saudi Arabia
US-based rights group launches awareness campaign against MbS to expose Saudi Arabia's sham reforms
A human rights organization has launched a campaign in the United States against Saudi Crown Prince Mohammed bin Salman (MbS) to expose his disdain for democracy as he has over the last several years moved toward complete authoritarianism and paid only lip service to reforms in the kingdom.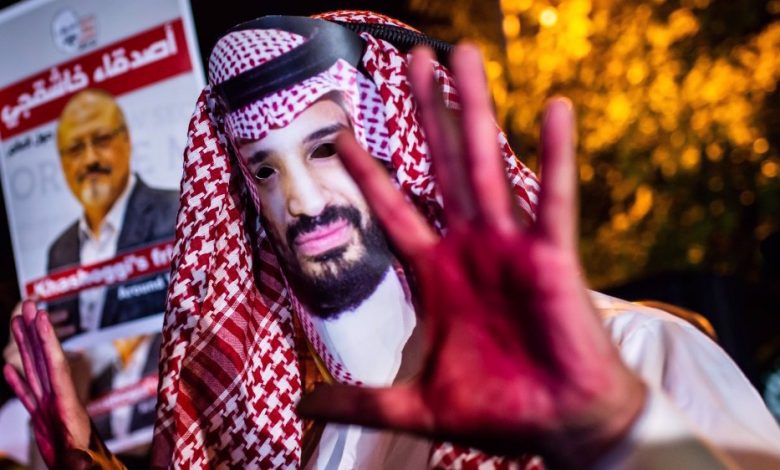 "We remind you that Mohammed bin Salman is not a generous reformer. He is an assassin," the Washington-based Freedom First wrote in a series of posts published on Twitter.
"The Saudi sovereign wealth fund – known as the Public Investment Fund, has bought shares worth $500 million in entertainment industry, so we tell people who MbS really is," the organization said, adding that some in Hollywood have even helped bin Salman "whitewash his crimes".
"We must stop these individuals and institutions from taking any further actions," it said.
The organization noted that its "adamant and unswerving position is to condemn and reject all efforts aimed at burnishing the image of the Saudi crown prince."
The report comes as the Riyadh regime is said to have hired at least 16 lobbying firms to help boost US-Saudi trade relations and scrub the kingdom's image on issues, including its devastating war in Yemen and its treatment of women.
On June 10, 2020, the Saudi crown prince hired one of the world's largest public relations firms by revenue to help clean up his criminal image, and promote his $500 billion futuristic megacity.
American news magazine Foreign Policy reported at the time that officials in charge of development of NEOM city in the Tabuk province of northwestern Saudi Arabia had signed a $1.7 million contract with Ruder Finn to promote the city.
10-year jail term for prominent cleric
On Thursday, Saudi authorities passed a prison sentence against a prominent religious scholar and political dissident Dr. Nasser al-Omar.
The Prisoners of Conscience, an independent non-governmental organization advocating human rights in Saudi Arabia, announced in a post on its official Twitter page that the so-called Specialized Criminal Court slapped a ten-year jail term on al-Omar, who has been behind bars for the past four years. 06d&siteScreenName=PressTV&theme=light&widgetsVersion=1890d59c%3A1627936082797&width=550px
According to the organization, Omar told the presiding judge before the verdict that he had been granted clemency by Saudi King Salman. The judge replied that the pardon did not include former detainees, and that he was charged with hosting Hamas political leader Khaled Mashaal abroad.
Al-Omar, a former professor at the Faculty of Religions of Imam Mohammad Ibn Saud Islamic University (IMSIU), was arrested in 2018 and his Twitter account was closed subsequently.
Born in 1952, he is the author of at least eight books on Islamic sciences in Saudi Arabia.
Ever since bin Salman became Saudi Arabia's de facto leader in 2017, the kingdom has arrested dozens of activists, bloggers, intellectuals and others perceived as political opponents, showing almost zero tolerance for dissent even in the face of international condemnations of the crackdown.
Muslim Saudi scholars have been executed, women's rights campaigners have been put behind bars and tortured, and freedom of expression, association and belief continue to be denied.
Report: Saudi Arabia seizes Hariri's property
Separately, Lebanese sources reported that despite the Saudi crown prince's close cooperation with the Future Movement, Mohammed bin Salman has agreed to sell the property of the Lebanese political party's chairman and former prime minister Saad al-Hariri without any legal procedure.
The Beirut-based al-Akhbar newspaper said on Thursday that the bulk of Hariri's property has been confiscated in order to pay overdue salaries of the employees of Saudi construction company Saudi Oger Ltd and other companies owned by the former Lebanese premier, pay arrears to the Zakat House, and settle debts to a number of Saudi banks.
However, the problem with paying off the debts is that the amount of arrears to a Saudi bank exceeds the value of all the property mentioned, the report added.
The Lebanese newspaper reported that Abu Dhabi Crown Prince Sheikh Mohamed bin Zayed Al Nahyan has agreed to give Hariri a chance to invest in the UAE, and allow him to stay in the country so that the former Lebanese prime minister could use the proceeds of the investment to pay off his debts to Saudi Arabia and other countries.
According to the report, a number of people close to Hariri have also raised the idea of ​​reviving the Future Media Group, which Emirati officials have refused to fund.
Saudi-born Hariri was invariably under heavy pressure and influence by the Riyadh regime, when he was Lebanon's prime minister.
He was even abducted by Saudi authorities during a trip to the kingdom in 2017, a development that observers called the Saudi court's means of sending a clear message about its plans for Lebanon.