North America
US coronavirus deaths top 49,000, averaging 2,000 lives lost a day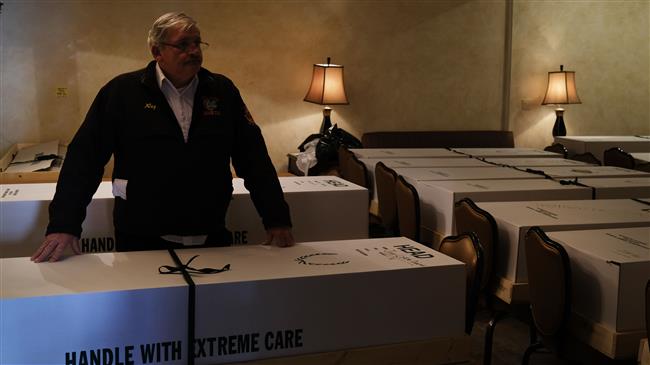 US coronavirus deaths topped 49,000 on Thursday as the number of lives lost in April rises by an average of 2,000 a day, according to a Reuters tally.
At that rate, US deaths will reach 50,000 no later than Friday.
The total number of US cases was approaching 880,000 with many states yet to report on Thursday.
US cases rose by over 30,000 on Wednesday, the biggest increase in five days but in line with an average of 30,000 new cases a day in April, according to a Reuters tally.
Across the country, state officials say there remain bottlenecks in testing capacity, shortages of materials such as swabs used for taking samples and not enough workers to contact- trace infections.
In addition to a staggering death toll, unemployment claims soared on Thursday and reaffirmed the grim economic toll of the coronavirus pandemic.
California suffered state's deadliest day of coronavirus outbreak
California recorded 115 deaths from COVID-19 over the past 24 hours, the state's deadliest day of the coronavirus pandemic, Governor Gavin Newsom said on Thursday.
Newsom said the deaths came as the number of hospitalizations and intensive care unit patients suffering from COVID-19 dropped slightly.
New York survey suggests nearly 14% in state may have coronavirus antibodies
As of Thursday, the hardest-hit state of New York had 263,460 confirmed cases and a death toll of 15,740, according the state's official count, or nearly 6% of those who tested positive for the coronavirus.
A preliminary survey of New York state residents found that nearly 14% of those tested had antibodies against the novel coronavirus, suggesting that some 2.7 million may already have been infected, Governor Andrew Cuomo said on Thursday.
Millions of Americans join unemployment line
A stunning 26.5 million Americans have sought unemployment benefits since mid-March, confirming that all the jobs gained during the longest employment boom in US history have been wiped out as the novel coronavirus savages the economy.
The deepening economic slump amid nationwide lockdowns to control the spread of COVID-19 was underscored by other data on Thursday showing business activity sinking to an all-time low in April.
Since March 21, 26.453 million people have filed claims for unemployment benefits, representing 16.2% of the labor force. That has led to dire predictions of 30 million job losses during the COVID-19 pandemic and an unemployment rate at levels not seen since the Great Depression.
(Source: Reuters)