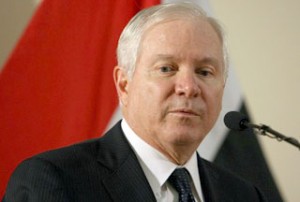 Contradicting Iran's foreign minister on a deal to swap nuclear fuel, US Secretary of Defense Robert Gates said Saturday he doubted an agreement was within reach.
"I don't have the sense we are close to an agreement," Gates told reporters in Ankara.
He said if Iran "decided to accept the proposal," it should inform the UN nuclear agency. His remarks came a day after Manouchehr Mottaki, Iran's foreign minister, said Tehran was "serious" about sending some of its low enriched uranium abroad for further purity.
"Under the present conditions that we have reached, I think that we are approaching a final agreement that can be accepted by all parties," Mottaki said. Iran "has shown it is serious about doing this, and we have shown it at the highest level."
Iranian President Mahmoud Ahmadinejad said last week that Iran had "no problem" with the proposal.
Under the proposal, Iran seeks to provide fuel for its research reactor in Tehran, which is running out of fuel.
The White House, however, has accused the country of seeking to impede negotiations over the proposal. Under the allegation, the administration of US President Barack Obama has sought to rally international support for a new round of sanctions against the country over its nuclear program.
The move has been met with skepticism in Russia, and China, a veto-wielding member of the UN Security Council, has categorically rejected the idea of new sanctions against Tehran.
Iran says its activities are in line with the Nuclear Non-Proliferation Treaty (NPT), which it is a signatory to. It has also called on world powers to abandon their weapons of mass destruction, including their nuclear arsenals.