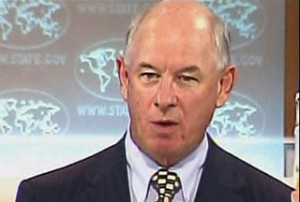 As the US pushes for tougher punitive measures against Iran's nuclear work, Washington urges a swift sanctions resolution within the UN Security Council.
"We are actually engaged in (talks) with a variety of different New York groupings in… to reach a conclusion on the particulars of a resolution. And we want to get this done as soon as possible," State Department Spokesman Philip Crowley said on Monday.
His remarks come as Iran has expressed readiness to negotiate with all 15 members of the UN Security Council to dispel the mounting tension around its nuclear program.
In a bid to force the Islamic Republic into suspending its uranium enrichment program, the US is stepping up efforts to win international support in the UNSC for imposing a fourth round of sanctions against Tehran.
However, Tehran insists that as a member of the International Atomic Energy Agency (IAEA) and a signatory of the Nuclear Non-Proliferation Treaty (NPT), it should not be hindered in exercising its right to nuclear technology for civilian applications.
For the sanctions resolution to pass, nine of the 15 Security Council members must approve the measure. Two of the veto-wielding powers [Russia and China] continue to send mixed signals on whether they intend to exercise their right to veto, with Beijing urging a diplomatic solution on the issue.
Crowley confirmed a flurry of telephone conversations on Iran between US Secretary of State Hillary Clinton and world leaders, including her Russian counterpart Sergei Lavrov, had taken place over the weekend.
He said that Lebanon, which is opposed to sanctions against Iran, would not slow the sanctions debate down. Lebanon will take over the rotating presidency of the Security Council in May.