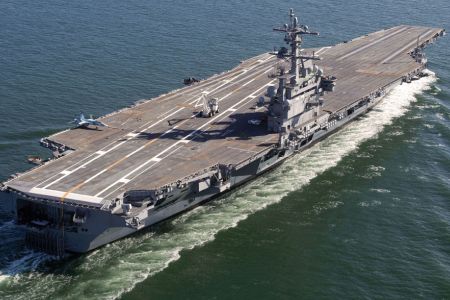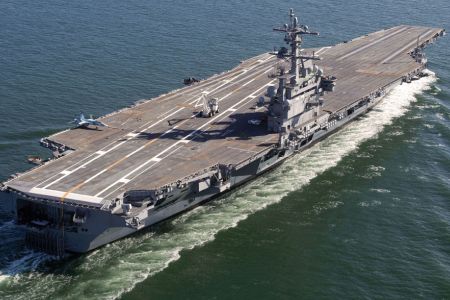 The US has deployed its newest aircraft carrier off the Syrian coast amid mounting speculations of a Washington-led military invasion against the Arab nation.
A US naval task force, led by the USS George H.W. Bush, parked off just outside Syria's territorial waters, just after the US embassy in Damascus urged Americans to "immediately" leave the country, the Daily Caller news website reported on Wednesday.
Media reports also indicated that US ambassador to Damascus Robert Ford, recalled from Syria in October due the mounting anti-US sentiment in the country, will not return later this month as planned.
The developments come amid Western attempts, spearheaded by the United States, to pressure Syrian President Bashar al-Assad to step down.
The CVN 77, better known as the George H.W. Bush, is capable of carrying up to 70 aircraft, including 48 fighter jets.
Washington has not explained the purpose of the carrier's deployment to the Syrian coast.
Meanwhile, NATO-ally Turkey is seen as likely to launch a military action against Syria.
Turkish President Abdullah Gul has already suggested that Ankara might invade the country under the pretext of weeding out Kurdistan Workers' Party terrorists operating inside Syria.
Arab media have also spoken of an impending no-fly zone over Syria, similar to the one imposed over Libya before NATO launched massive missile strikes and aerial bombardments of the oil-rich country earlier in the year.