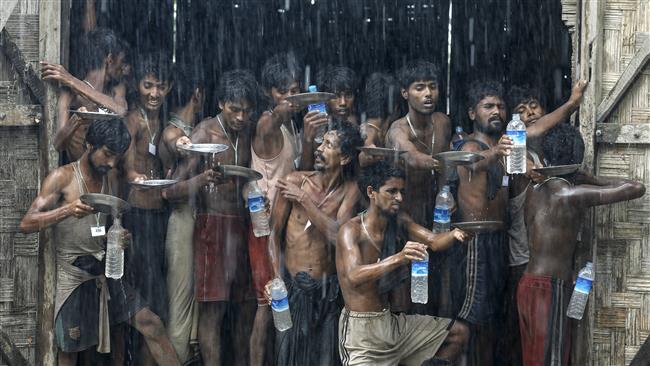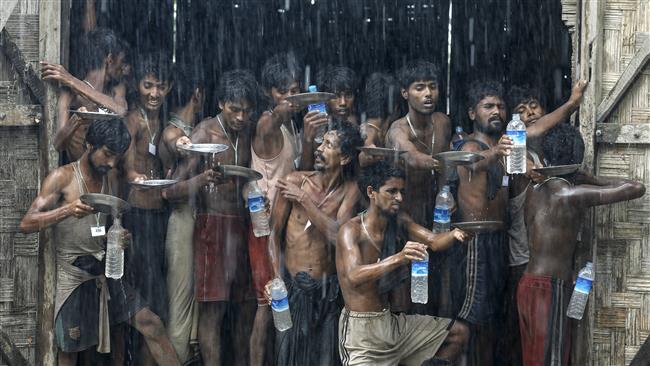 The United States will not determine that the persecution of Rohingyas in Myanmar is genocide because its priorities are to eventually make the Southeast Asian nation a client state as part of its long term strategy of confronting China, an international lawyer and political analyst says.
Barry Grossman, who is based on the Indonesian island of Bali, made the remarks in an interview with Press TV on Tuesday, after the State Department acknowledged that Myanmar is persecuting Rohingya Muslims, but failed to call it genocide.​
"While it's without question that they continue to face persecution, we did not determine that it was on the level of genocide," State Department spokesman John Kirby told reporters on Monday.
"It is very easy to tell just how little Washington is concerned by the ongoing humanitarian crises in Myanmar by the relatively low rank of the State Department spokesman selected to comment about the issue," Grossman said.
"If Washington saw the plight of Myanmar's roughly 2 million stateless Rohingya as an important issue, either the president or his secretary of state would speak to the matter. Their silence speaks far louder than a few words from some state department spokesman," he added.
"In this instance, Washington is being so disingenuous and duplicitous in its rhetoric that even the US ambassador to the UN was passed over in favor of having a relative nobody speak to the ongoing crises;  a move which is calculated to in effect give a green light to the Myanmar government to carry on as it pleases, while the Clinton policy of not so-limited engagement rolls ahead at full steam, now even embracing military cooperation between the US and Myanmar," he stated.
Lives of Rohingyas hang in limbo
Grossman said "the bottom line is that despite throwing down something of a gauntlet to the Myanmar government in 2014 by articulating a number of very clear expectations the international community supposedly had of Thein Sein's government in order to address the crises, none of the related issues were followed up on at a sufficiently senior level of the US government for any of the expressed concerns to be taken seriously by Rangoon."
"Meanwhile, the influence of Myanmar terrorist monks both in Burma and throughout the region is growing, while the lives of millions of Rohingya hang in limbo," he added.
"Despite the universally recognized repression and slow genocide of Rohingya unfolding today, the US has made it abundantly clear that its priorities are to eventually make Myanmar a client state as part of its long term strategy of isolating China," he opined.
"The term genocide is used by the Atlantic World political establishment in much the same way they selectively invoke self serving definitions of national security and terrorism," the analyst pointed out.
"The Americans continuously tell us that the slow but still very real and violent cultural genocide being advanced in both Palestine and Myanmar, is not a genocide at all so much as run of the mill, garden variety repression, despite the expressed aim of those promoting both programs being to completely eliminate all traces of Palestinians and Rohingya, as the case may be, from their ancestral home lands," he stated.
When US uses genocide term
"Of course, whenever the US establishment sees some geopolitical advantage in recognizing a conflict as being genocidal, Congress has no difficultly at all in declaring its position," Grossman said.
"For example, only a few weeks ago Congress declared ISIL's war on Syrians to be a genocide as part of what appears to be a contrived campaign to convene a special war crimes tribunal under UN jurisdiction ostensibly to prosecute key ISIL commanders but in reality to indict Bashar Assad and key members of Hezbollah, with a view to ultimately holding both Iran and Hezbollah responsible for the humanitarian crises and general wreckage caused by US proxies in Syria," he noted.
"On the other hand, the US establishment is all but disinterested in promoting a just solution for Mynmar's Rohingya Muslims whose ancestral homeland in Arakan had been independent for more than a millennium and certainly never any part of the Kingdom of Burma until the British Empire conquered it very early 19th century and eventually rolled its territory into British controlled Kingdom of Burma," he stated.
"The bottom line is that if the US was even remotely concerned about regional security and the plight of Rohingya Muslims, it would long ago have designated Ashin Wirathu and his '969 Movement' to be terrorists," the commentator argued.