Human Rights
North America
US driver shot 12 times by police, killed at point blank range
A US driver has been shot 12 times by the police and died at the scene in the state of Maryland.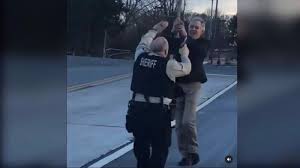 The fatal shooting happened near the town of Laytonsville in Montgomery County on Saturday morning, according to the police.
A video shot by a witness shows a deputy sheriff opened fire at the chest of the driver, who takes at least 12 shots at point blank range. The man then collapses on the road, with blood visible on his clothes and lips.
The footage shows the driver attacked the deputy sheriff before being shot to death.
"He immediately got out of the car with a very large wooden stick of some sort with a very large piece of wood," Sheriff Darren Popkin told the media.
Police said the slain man was driving erratically on the road to Olney and colliding with another vehicle before coming to a stop.
Before the shooting, the deputy tried to use his taser to subdue the erratic driver, according to the Montgomery County Police Department, but was not successful for reasons not immediately determined.
Reports said the deputy sheriff was expected to be released on Sunday and will be placed on administrative leave while the incident is being investigated.
The deadly shooting came after new video emerged of fatal shooting of a mentally-ill American teenage boy by Pennsylvania police while he had his hands in the air in a gesture of surrender.
Racial justice attorney Benjamin Crump shared a video of the December 30 incident on his Twitter account this week, which quickly went viral on social media.
The family of Christian Hall, 19, had called the Pennsylvania State Police to help their son, who was having a mental health episode, as he was standing on a bridge considering committing suicide.
However, the officers shot and fatally wounded the teen as he appeared to raise his hands in the air. He later died of his wounds in the hospital.
Crump also represents family of George Floyd, a 46-year-old African American man, who was killed at the hands of a white US police officer in Minneapolis, Minnesota last year.
Floyd died after Derek Chauvin, the white officer, knelt on his neck and pinned him to the ground for nine minutes last May. The video of the brutal scene circuited online, shocking people in the US and other countries.
The killing of Floyd by the police ignited months of protests against police brutality and racism across the United States last year.