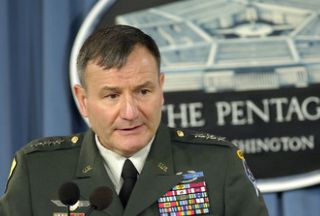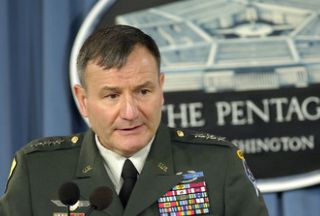 Afghanistan's attorney general says US Ambassador to Kabul Karl Eikenberry has threatened to have him fired, should he fail to arrest an Afghan banker accused of fraud.
"Eikenberry says if you do not arrest the banker on charges of fraud you should resign," a Press TV correspondent quoted Muhammad Ishaq Aloko as saying on Tuesday.
The Afghan attorney general added that Eikenberry's order for the arrest of Afghan banker Rafiullah Azimi was in violation of "diplomatic ethics," AFP reported.
What "diplomatic ethics allow the attorney general of a country to be threatened in such a manner?" he asked.
Aloko went on to argue that his office did not have enough evidence against Azimi, who has allegedly had a hand in a corruption case involving a former minister, who is currently living in Britain.
He also blamed the US and the UK for failing to fully cooperate for the arrest of those Afghan officials who are living abroad but are wanted for corruption charges in Afghanistan.
When asked for a response to Aloko's remarks, Caitlyn Hayden, a US embassy spokeswoman said "We do not comment on the ambassador's diplomatic discussions," AFP reported.
According to Transparency International, a monitoring organization, Afghanistan is one of the world's most corrupt countries.
Billions of dollars in international aid money is being shipped out of Kabul to foreign safe havens, with some of the suitcases being shipped out reportedly belonging to top Afghan officials.
Reacting to the corruption reports, a senior US lawmaker said earlier that Washington will not give "one more dime" to Afghanistan until President Hamid Karzai takes action against corruption in the country.