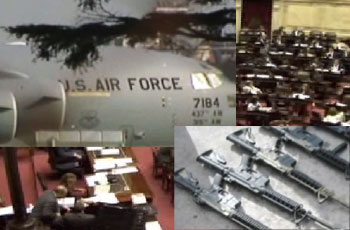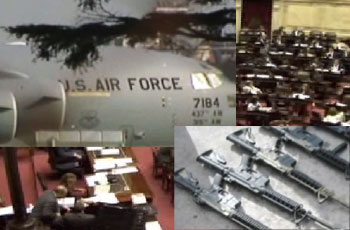 Argentine-US tensions over items seized from a visiting US military aircraft spiked higher Tuesday after Buenos Aires said its personnel "would have ended up in Guantanamo" if the situation were reversed.
"Imagine what situation Argentina would have found itself in if it had transported the same things to the United States?" asked Argentina's cabinet chief, Anibal Fernandez.
"We would have ended up in Guantanamo, in orange uniforms, in conditions I don't even want to get into," he told reporters.
"We are talking about national sovereignty."
The harsh words ratcheted up a row that started when Buenos Aires authorities last Thursday seized what they said were undeclared weapons and drugs including morphine on a US Air Force C-17 transport plane carrying experts and material for a hostage rescue training exercise.
Argentine President Cristina Kirchner's government said in a statement Sunday it was lodging a protest with Washington over the attempt "to violate Argentine laws by bringing in hidden material in an official shipment."
Foreign Minister Hector Timerman on Monday told CNN that US officials "refuse to cooperate with the investigation."
The US State Department has said it was "disturbed" by the confiscation of what it described as routine equipment for police training — including batteries, medicine, a rifle and communications equipment.
State Department spokesman Philip Crowley claimed Argentine officials carried out "an unusual and unannounced search of the aircraft's cargo" and that any discrepancy between the cargo manifest and the items seized could have been resolved on the ground, without escalation.
"We continue to call on the Argentine government to return our equipment," he said.