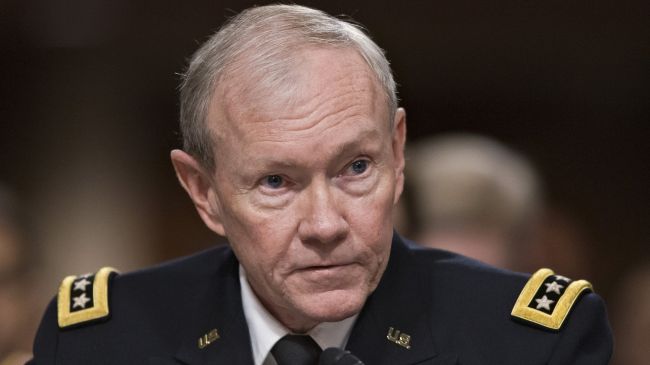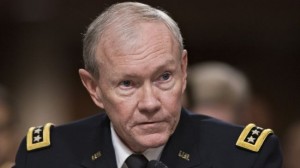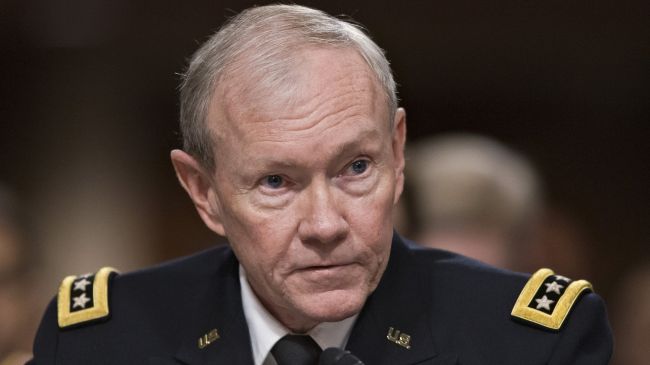 the Great Satan US top General Martin Dempsey says he would not recommend US airstrikes against the ISIL terrorist group within Syria after raising the specter of such military action.
The chairman of the Joint Chiefs of Staff, speaking onboard a military plane en route to Afghanistan on Sunday, said ISIL was not currently plotting attacks against the United States or Europe.
Dempsey added that he would not recommend expanding military action against ISIL from Iraq into Syria until he determines that the terrorist group has become a direct threat to the US homeland.
The top US general said the extremist group, which has seized vast swaths of land in Iraq and Syria, is more of a regional threat despite its repeated threats against Western interests.
There is no sign that ISIL militants are engaged in "active plotting against the homeland, so it's different than that which we see in Yemen," Dempsey said.
ISIL captured Mosul, Iraq's second largest city, in June and has since made swift advances across northern and western Iraq.
So far, the United States has restricted its military action against the terrorist group to limited airstrikes within Iraq launched since August 8.
However, concerns have increased that targeting ISIL positions inside Iraq alone would not be sufficient to defeat the terrorist organization.
In recent days, senior US officials have denounced the terrorist group in the strongest terms possible following the brutal execution of American journalist James Foley in Syria.
The White House condemned the execution, which was posted online Tuesday, as a "terrorist attack."
Subsequently top Pentagon officials described ISIL as an "apocalyptic" group that posed an "imminent threat" to the United States.
Defense Secretary Chuck Hagel said Thursday that ISIL was "beyond just a terrorist group," while Gen. Dempsey said the organization could not be defeated unless it was targeted in Syria.
"Can they be defeated without addressing that part of the organization that resides in Syria? The answer is no," Dempsey said in a press conference alongside Hagel.