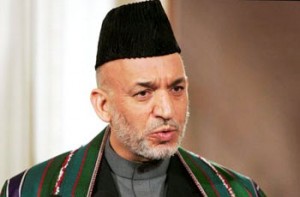 Afghan President Hamid Karzai has criticized foreign troops for not bringing security to the war-torn country as he prepares to leave for Washington.
Karzai said Saturday the US and its allies have yet to make Afghanistan a secure country, while slamming NATO for conducting night raids.
The US-led alliance claims its operations target Taliban militants. However, the attacks often kill civilians.
His comments come ahead of his trip to Washington — where he is expected to attempt to mend ties with the White House.
Karzai earlier angered Washington when he accused foreign nations of interfering in Afghanistan's recent elections.
The 2001 US-led invasion of Afghanistan, involving forces mostly from NATO countries, has so far failed to bring security to the country.