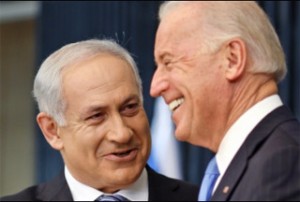 US Vice President Joe Biden, speaking at Tel Aviv University on Thursday, said that Washington has no better friend in the world than Israel.
Some years ago "I said if I was Jew, I would be a Zionist," Biden said, speaking o of his affinity for Israel since childhood.
"I was reminded by my father you need not be a Jew to be a Zionist," he remarked.
The US vice president added that Washington helps Israel out with around USD 3 billion worth of military aid every year.
Biden's comments come on his third day visit to Israel and once again raising the question of US ability to be a neutral mediator in Middle East peace talks.
Biden who is on a five-days visit to Israel also warned that Iran will face more sanctions and further isolation over its nuclear program.
He said the United States wants to rally the international community to impose tougher sanctions on Tehran.
The US and Israel claim that Iran is pursuing a nuclear military program through its enrichment activities. Tehran, however, denies the charges saying its nuclear program is peaceful and solely aimed at civilian application of the technology.
Biden concluded by emphasizing there should be no further delays in Israel-Palestinian talks, despite Tel-Aviv's new settlement plans on occupied Palestinian land.