Iran
Middle East
North America
Qasem Suleimani
US imitating Daesh in threatening Iran's cultural sites: Zarif
Iran's foreign minister says US threats to target landmarks important to the Iranian culture are an imitation of the Daesh terrorist group's razing of the regional countries' cultural heritage.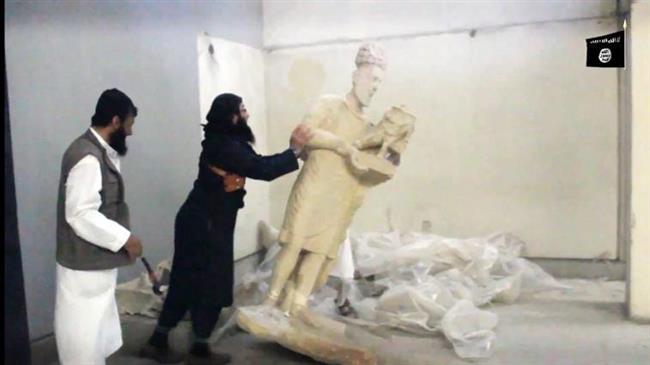 The US "seeks to emulate the war crimes of Daesh, menacing the cultural heritage of the millennia-old civilization of Iran," Mohammad Javad Zarif wrote in a speech addressing a United Nations Security Council meeting of Thursday.
The remarks were read during the UN Security Council session by Iran's Ambassador to the UN Majid Takht-Ravanchi after the US did not issue a visa in a clear violation of its international obligations for Zarif to attend the meeting.
After assassinating top Iranian general, US denies Zarif visa to attend UNSC meetingThe United States has reportedly denied a visa to Iranian Foreign Minister Mohammad Javad Zarif, who was scheduled to attend an upcoming United Nations Security Council meeting.
Last week, US President Trump threatened to attack Iran's "cultural sites" in response to any Iranian retaliation of Washington's assassination of the Middle East's most prominent anti-terror commander General Qassem Soleimani last Friday.
After Iran's missile strikes on two US bases in Iraq on Wednesday, Trump backed down on his threats and offered negotiations with the Islamic Republic.
Iran strike on US bases made Trump back down from threatsPolitical commentator Gordon Duff believes Iran's missile strike on American bases forced President Donald Trump to back down from his earlier military threats.
'Dastardly attack killed anti-Daesh heroes'
Addressing the Security Council meeting on Thursday, Zarif described the attack on Gen. Soleimani and a number of his comrades as a "dastardly targeted assassination" of "heroes who were the nightmare of groups such as Daesh."
He said Iran's Wednesday response to the assassinations was "measured and proportionate" and within Iran's "right to self-defense in accordance with Article 51" of the UN Charter.
Ain al-Assad air base in Iraq: Satellite photos show extensive damage caused by Iran's missile attackSatellite photos show the extensive damage caused by a series of precision missile strikes by Iran at Ain al-Assad air base in Iraq.
The Iranian foreign minister said the Trump administration has shown its utter disregard for the UN Charter, lobbing "more and more threats and attacks" against Iran and other sovereign nations.
Zarif highlighted Washington's attempts to derail the 2015 Iran nuclear deal, punishing "anyone who attempts to comply with UN Resolution 2231 which unequivocally endorses the Joint Comprehensive Plan of Action."
The Iranian foreign minister also slammed Washington for what he described as its "damaging" unilateralism and "defiance of international norms and law."
"The world is at a crossroads. With the end of monopolies on power, one unhinged regime is frantically clamoring to turn back time," he said.