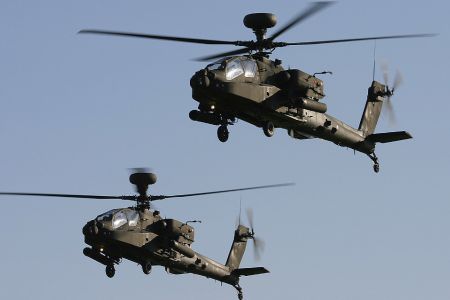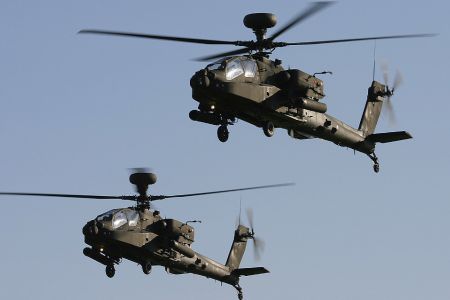 The US is planning to sell five billion dollars worth of military equipment to the United Arab Emirates (UAE) as a part of massive US arms deals with oil-rich Persian Gulf states.
The US Defense Department announced Monday Congress had been notified of the proposed sale, which includes the delivery of 60 Boeing AH-64D Apache strike helicopters, last week. The US lawmakers will have 30 days to approve or reject the proposal, UPI reported on Friday.
"The volume of arms purchases by the UAE, has increased significantly over the past 10 years and is likely to remain a major arms buyer in the coming years," said the Stockholm International Peace Research Institute (SIPRI), which monitors global arms sales.
Washington plans to deliver as much as 122 billion dollars worth of military hardware to its Arab allies over the next decade. This includes a recent 60-billion-dollar arms deal with Saudi Arabia. The agreement has been described as the largest weapons sale in US history.
The Saudi Arabia's package is to be delivered over 15 to 20 years and includes 84 F-15 jets, 70 Apache gunships, 72 Blackhawk helicopters, 36 light helicopters and thousands of laser-guided smart bombs.
The deal will also work like a painkiller on the ailing and crisis-hit US economy, creating 70,000 jobs in around 40 states.
A late 2009 report by Congress think tank, Congressional Research Service, showed that the United States was the largest global arms supplier throughout 2001 to 2008, while some Arab governments were named as top buyers of weapons and military equipment.
According to the report, titled the 'Conventional Arms Transfers to Developing Nations,' the UAE held the record as the number one developing nation to purchase US arms, with deals worth around 9.7 billion dollars. Saudi Arabia ranked second with 8.9 billion dollar US deals. Morocco followed closely behind with 8.7 billion dollars in military spending linked with the US.
Last September, US media reports said that Saudi Arabia, the UAE, Kuwait and Oman planned to seriously shop at the US arms bazaar, with potential deals looming around 123 billion dollars.
The US government always consults the Israeli regime on any arms sales to Arab countries as a matter of policy intended to ensure that Israel maintains a military superiority in the Middle East region.