Iran
North America
US in 'downward spiral' while resistance front expands borders: IRGC chief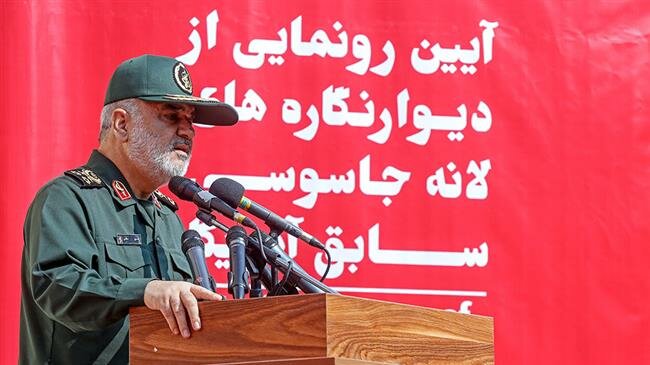 The chief commander of the Islamic Revolution Guards Corps (IRGC) says the United States has for decades been stuck in "a downward spiral" and its decades-long failure to score a political victory proves that the global resistance front is growing.
Major General Hossein Salami made the remarks during the unveiling ceremony of murals on the walls of the former US embassy — dubbed "Nest of Spies" — in Tehran on Saturday.
"For years, the Americans have not been able to strike a balance between the costs and the outcomes of their measures, even in the economic field. They are stuck in a downward spiral and the world has for decades and years witnessed no recording of a political victory for them," he said.
On the contrary, he added, the resistance is thriving and actively expanding its borders.
Salami also said Washington has played "either directly or indirectly" the main role in all major wars across the Muslim world in the past four decades.
The US has been the world's largest arms exporter and its interventions have killed a total of 8.5 million people around the globe, he noted, saying America is the first regime which obtained weapons of mass destruction and the only country that used them twice.
"The US speaks of human rights while it disregards these same rights in all parts of the world and violates them, like attacks on wedding ceremonies in Afghanistan and overnight raids on the homes of the people of Iraq," the IRGC chief said, naming the notorious prisons of Guantanamo and Abu Ghraib as more examples of America's human rights violations.
The US regime, he pointed out, speaks of freedom and democracy while all dictators across the globe are its "chess pieces."
"In Afghanistan, they (the Americans) created terrorist groups but they were forced to counter them. They themselves nurtured Daesh leader and were forced to eliminate him," he said.