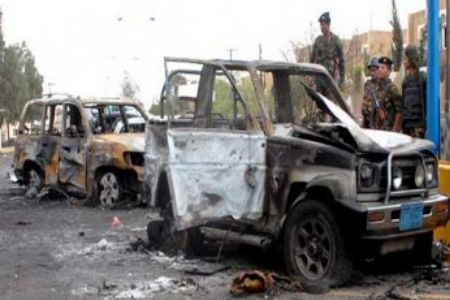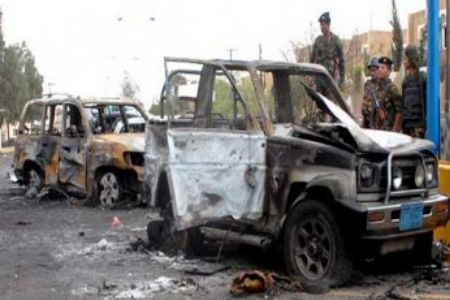 Yemen's Hezbollah Movement Houthi group has accused the intelligence services of the US and Israel of planning a car bomb that claimed the lives of 23 Houthi fighters and left 30 others injured.
The bomb explosion targeted a religious procession on Wednesday in Yemen's northern Al-Jawf province.
According to documents obtained by the Houthi group, "the intelligence services of the US and the Zionist regime (Israel) are behind the Wednesday attack," said Houthi group's spokesman Mohammed Abdulsalam.
Referring to another car bomb in northern Yemen that left at least two mourners dead, he said, "The car was laden with shells made by the US."
On Friday, the bomb targeted a convoy of mourners, who were travelling from Dahyan to Saada province to attend the funeral of Badreddin al-Hawthi, the father of the group's leader, who died on Thursday.
"Killing the Muslims and disintegration of communities and countries are in favor of the US and the Zionist regime," Abdulsalam said.
On Tuesday, a Yemeni army soldier was also killed and two others were injured when a roadside bomb targeted their military vehicle south of the country.
The Yemeni government launched Operation Scorched Earth on August 11, 2007 to uproot the Houthi fighters, whom Sana'a accuses of seeking a return to the Zaydi imamate overthrown in a 1962 coup.
The northern Houthi fighters have on occasions complained about widespread religious discrimination against them by Sunni fundamentalists who hold sway because of Yemeni President Ali Abdullah Saleh's cordial relations with staunchly Wahabi Saudi Arabia.
Saada and neighboring Amran province, the strongholds of the Houthi fighters, were frequently pounded by fighter jets and helicopter gunships.
The conflict zones in northern Yemen remained cut off from the rest of the country and the locals were grappling with a pressing shortage of food and other basic supplies.
The United Nations puts the number of displaced people at around 150,000 civilians.