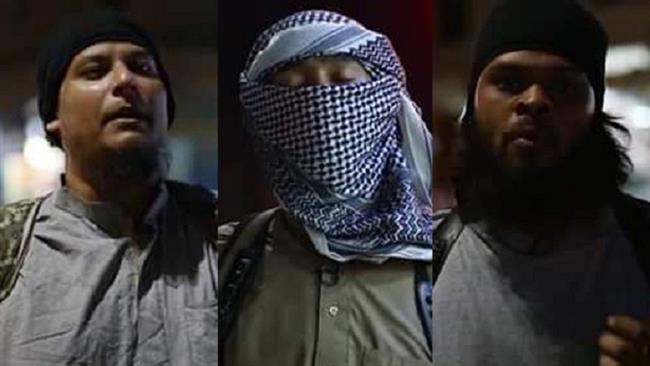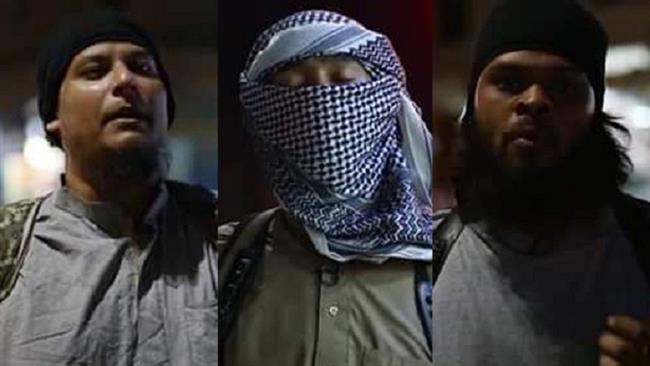 The Daesh Takfiri terrorist group has vowed to launch further terror attacks on Bangladesh, almost a week after it claimed that it carried out a deadly siege in the capital Dhaka, which killed 20 people.
In a new video, purportedly put on the Internet by the group on Wednesday, three Bangla-speaking men first praised the terrorist acts of the six men who conducted the deadly attack on the Gulshan café in the capital on Friday night. They had killed 18 foreigners and two police officers before they themselves being shot dead by security forces.
"We will not stop killing the crusaders till then; we will win or die… we don't have anything to lose," said one of the men in the footage.
Addressing the "Christian and Jewish crusaders and their allies," another man switched in English and said "what you witnessed in Bangladesh was just a glimpse, this will repeat, repeat and repeat until you lose and we win."
The bloody hostage taking ended on Saturday, after 12 hours, when commandos killed the gunmen and took another alive. Officials said most of the victims were slaughtered with machete-style weapons.
Prime Minister Sheikh Hasina decreed two days of national mourning beginning on Sunday. Services were held across the country in memory of the victims.
Hasina said the attacks were meant to tarnish the image of Islam and Bangladesh as an Islamic country.
"Islam is a religion of peace. Stop killing in the name of the religion," Hasina said in an address to the nation on Saturday, adding, "By holding innocent civilians hostage at gunpoint, they want to turn our nation into a failed state."
Although the terror group has claimed responsibility for the attack on the Western-style Holey Artisan Bakery café, saying it had targeted a gathering of "citizens of crusader states," officials in Bangladesh have denied the claims.
"They have no connections with the Islamic State (Daesh)," Home Minister Asaduzzaman Khan said Sunday, adding that the attackers were members of Jamaeytul Mujahdeen Bangladesh (JMB), a group banned over a decade ago.
The government in Bangladesh has repeatedly denied that international militant groups, like Daesh, have gained foothold in the country.
In mid-June, Bangladesh police armed villagers in the country's western regions with bamboo sticks and whistles to avoid terrorist attacks on secular intellectuals and members of the minority faiths.
A massive crackdown on domestic radical groups last months ended in 11,000 arrests, but opponents say the move was largely meant to silence critics and barely affected the perpetrators of hate crimes.